Mar 08, 2019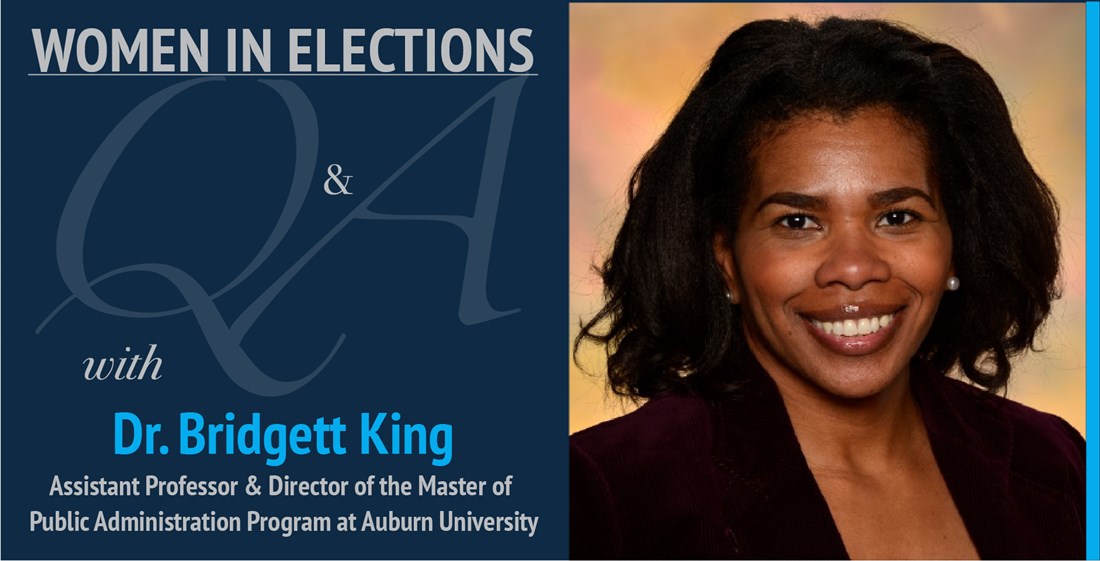 The EAC has launched a "Women in Elections" campaign to coincide with Women's History Month. During the month of March, we will interview several women at the heart of elections at the Secretary of State and county, and within academia, and share their insight about elections on the EAC's Facebook, Twitter and Instagram accounts. Follow the conversation online at #WomeninElections.
We are beginning our 2019 series with a conversation between EAC Chairwoman Christy McCormick and Dr. Bridgett King, Assistant Professor & the Master of Public Administration Program Director at Auburn University.
Christy, EAC: Thank you for joining me for this series, Dr. King. I wanted to start by asking you how your career in election research began.
Dr. King: When I was finishing my master's degree in Justice Studies at Kent State, Dr. Melody K. Baker recommended that I get a PhD. I really didn't give it much thought, but I trusted her and applied. Once admitted to the PhD in political science program at Kent State, I began working with Dr. Caroline Tolbert. She, at the time, was doing a lot of work on state voting policies and their effect on voter turnout. It was through my work with her that I began to be interested in voting. At one point during our research, I realized that it was possible to connect two of my interests: criminal justice and voting by conducting research on felony disenfranchisement. Once I finished my degree, I worked at the Brennan Center for Justice as a voting rights researcher. While working on their resource allocation report, I began to think about the administration of elections relative to what voters experience when they cast a ballot.
Christy, EAC: The EAC recently announced the recipients of its third annual Clearinghouse Awards for best practices in election administration. I was wondering if there were best practices you've seen throughout your own research of successful outreach to historically marginalized voters that you would recommend to other jurisdictions.
Dr. King: I think one of the most interesting things I've seen is local election officials trying new and innovative approaches to build a relationships with voters and establish citizen investment and buy-in regarding what the elections office is doing. I think election officials have found new ways to think outside the box to make citizens feel included in the process. As an example, the Kansas City (Missouri) Board of Elections allowed voters to try out new voting equipment options and provide feedback before new machines were purchased. And, once the new machines were purchased, the "vote" that citizens cast during the demonstration period was used to determine what graphic voters would see once they finished voting on the new machines. That's an example of a way to incorporate voters into the decision making process and acknowledge their efforts in what is really a small way, but can be meaningful.
Christy, EAC: You released a book with Dr. Kathleen Hale in 2016 called Why Don't Americans Vote?: Causes and Consequences. Describe some of the ways federal and state governments have responded to low voter turnout and which have resulted in a higher number of voters at the polls on Election Day.
Dr. King: We often discuss voting in terms of a cost-benefit calculus; in essence when the cost outweighs the benefit citizens are disinclined to participate. When the benefit outweighs the cost, citizens are inclined to participate. Many of the innovations that states adopt are aimed at lowering the cost of voting, such that more people are inclined to participate. Innovations like Election Day registration, early voting, no-excuse absentee voting, mail elections, etc. lower the individual cost of voting by creating more opportunities to register and vote and, consequently, producing greater turnout numbers. That said, research also suggests that in many instances, the cost is reduced for individuals who are already included to vote. On the flip side though, there may be administrative benefits to these innovations. Early voting, for example, can serve as a pressure release value for Election Day by creating a voting period that last multiple days.
Christy, EAC: You've written about the impact of state policy and election precinct evaluations on voter confidence. Describe some of the conclusions you've drawn from your research.
Dr. King: The broadest conclusion is that what voters experience when they vote matters and has consequences for how they perceive the legitimacy of the election. I know we often think of state policies and how they matter for participation, but often, those in-person voting experiences go overlooked. One of the things my research suggests is that the quality of poll workers and challenges voters have with the voting equipment affects confidence in election administration. Additionally, for Hispanic/Latino and black voters, having an interaction with a poll worker who is of the same race/ethnicity has a positive impact on confidence. Given the history of voter disenfranchisement in the United States and challenges voters still face, having interactions with individuals who are similar serves as an indicator that the process can be trusted. These individuals can also be a resource where language access challenges are present.
Christy, EAC: In addition to your dual role at Auburn University and your substantial body of research, you are also an instructor in the Election Center's Certified Elections/Registration Administrator (CERA) Program. Over the last few decades, there has been an effort to professionalize election administration as a field. Can you speak to some of the biggest changes you've seen in the field as both a researcher and an instructor?
Dr. King: I think one of the biggest changes I have seen is the establishment of a junior scholar cohort of political scientists who are interested in election administration. I would consider Drs. Gayle Alberda, Thessalia Merivaki, Nadine Gibson, and myself as a part of that group. I think what is happening on the academic side of election administration is in many ways a direct reflection of what is happening in election administration nationally; younger people being interested and making a career in election administration. My first election was the 2000 election. I think for many of us, the experience of the 2000 election and the challenges and irregularities that have occurred in subsequent elections have shaped our interest in the system and created a desire to understand it and make it better.
We at the EAC would like to thank Dr. King for her insight. Keep checking our blog for conversations with "Women in Elections" throughout Women's History Month and help us celebrate these leaders in the election community.