Apr 05, 2019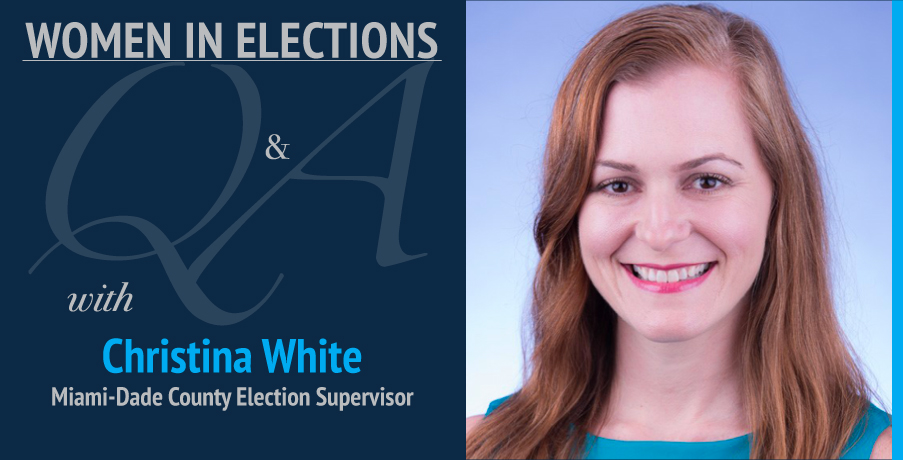 The EAC launched a "Women in Elections" campaign to coincide with Women's History Month. During the month of March, EAC Chairwoman Christy McCormick interviewed several women at the heart of elections at the Secretary of State and county, and within academia, and share their insight about elections on the EAC's Facebook, Twitter and Instagram accounts.
We are continuing our 2019 series during the first week in April with a conversation between Chairwoman McCormick and Miami-Dade County Election Supervisor Christina White.
Christy, EAC: Thank you for joining me for this series, Christina. I wanted to start by asking you how your career in elections began.
White: I began my career with Miami-Dade County government in 2002 as spokesperson for the Department of Environmental Resource Management. After serving in several other departments, I accepted a position at the Elections Department in 2006 as a senior executive assistant to the Supervisor of Elections. I served in several other leadership capacities within the Department, which turned out to be an excellent transition to my appointment as Supervisor of Elections. I am proud to have come up through the ranks and find the work we do to be extremely meaningful as facilitators of democracy.
Christy, EAC: Since you were appointed Miami-Dade's Supervisor of Elections in 2016, you have transformed the reputation of the county's election office. Could you describe, at a high level, some of the changes you have implemented and the impact of those reforms on voters' experience?
White: I was appointed Supervisor of Elections in May of 2016 as we were embarking upon preparations for the 2016 Primary and Presidential Elections.
One of my first priorities was to take a more mathematical approach to our resource allocation to ensure maximum convenience for our voters with minimal wait times. Staff analyzed voting turnout trends and patterns within our community, focusing on which methods of voting were increasing. We reviewed the entire voting process from voter check-in to placing the ballot into the tabulator. These analytics provided crucial information, which allowed us to develop strategic plans and proper equipment allocations.   
We learned that the length of the ballot is such an important variable. Voters will spend most of their time in the privacy booth. If we can estimate how long it will take a voter to fill out the ballot, we can determine the adequate number of privacy booths needed at Early Voting and Election Day locations. This was at the core of line management, an important focus as voter turnout continues to break historical records. Similarly, we now use historical data to predict productivity rates for internal operations. Overseeing the largest election operation in the state of Florida and seventh in the nation with strict statutory deadlines, it is critical to infuse math into your operational planning.
My senior staff and I debrief after every election, looking for ways to improve.
And lastly, I pride myself on transparency and accessibility to the public. When interested parties have their questions and concerns addressed and become educated on policies and procedures, they are more confident in the electoral process.
Christy, EAC: The state of Florida, and Miami-Dade County in particular, is no stranger to extreme weather and must be prepared for the impact such storms can have on or near Election Day. Describe some of the contingency plans Miami-Dade has in place and how the county has adapted its emergency plan over the years.
White: Miami-Dade County has a dedicated Office of Emergency Management that is activated in the event of an emergency. We work closely with them to employ our Continuity of Operation Plan (COOP), which details all aspects of an election in an emergency to ensure access for our voters as soon as possible. The Elections Department is housed in a category 4 facility on full generator to ensure continuity of operation; and we have tertiary back up for all data. To account for unexpected events, we have troubleshooting trucks transverse the county with generators, extra equipment and supplies. With paper backup voter rolls, paper ballots, and emergency polling place procedures, we can set up a precinct immediately to ensure voting continues.  Cybersecurity has always been a component of election planning and continues to play a major role in emergency planning.
Christy, EAC: You have advocated for longer deadlines to complete recounts following close elections. Describe some of the challenges that arise following a hotly contested election and the demands that are placed on election workers.
White: While I am extraordinarily proud of my staff that Miami-Dade County completed three historic recounts by the state deadline, it did not come without challenge. I felt it was my responsibility to my county and other large counties to speak up as a voice of someone who succeeded at it.
813,000 people voted in the 2018 General Election. Each one of them having a four or five-page ballot. We had to segregate the first page, which contained the three recounted races, before even starting the machine recount. That's over 3 million sheets of paper that we had to sort through one by one, then re-tabulate them utilizing 9 high speed scanners.
Going back to the concept of math and productivity rates, there was a possibility we wouldn't complete the recount on time. To do so, I requested permission from the Canvassing Board to start sorting ballots right away, requested additional high-speed scanners from our vendor, and had staff working 24 hours a day. That is how we succeeded.
Although I will say, voting units are not intended to run 24 hours a day. Staff members who are exhausted, performing a task with the level of accuracy that is demanded with zero tolerance for error, is not how it should be done. With time, you have organization and order. That is how you ensure accuracy. But we did it, and for that, I am proud.
Christy, EAC: The state of Florida received about $19.2 million in 2018 HAVA Funds that the state is using, in part, to establish an online grant program to assist county supervisors of elections in enhancing election security and voting accessibility. How will this funding impact voters in Miami-Dade County?
White: The HAVA Funds received last year were used towards improvements that strengthened physical security at our facility and several products and services that strengthened our cybersecurity posture. We have taken many unprecedented steps to ensure that voting is secure, transparent, and accurate. One of the most important responsibilities we have at the Elections Department is to ensure that voters' confidence remains high. We want them to feel secure in knowing that Miami-Dade County is doing everything possible to protect the local voter registration database and voting system.
I would advocate for additional HAVA funding as we approach the 2020 election cycle, and annually thereafter, to ensure we have the latest tools to stay ahead of possible threats.
We at the EAC would like to thank Christina for her insight. Take a look at the entire 2019 "Women in Elections" series to see the innovative leaders we highlighted throughout Women's History Month.