Nov 21, 2017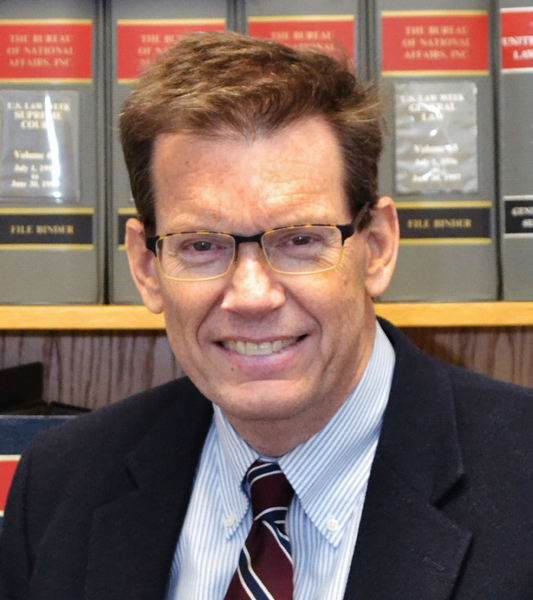 The Election Assistance Commission (EAC) is paying tribute to the nation's veterans and active duty service members throughout National Veterans and Military Families Month by highlighting key voting accessibility resources. In particular, veterans with visible and invisible disabilities can face considerable challenges when they go to cast a ballot. The EAC is focused on improving this voting process for our nation's heroes by highlighting best practices and success stories from across America.
Recently, we caught up with Lee Page, Senior Associate Director of Advocacy for Paralyzed Veterans of America (PVA). Lee Page has been with PVA since 1990, and was instrumental in the development of the disability provisions within the Help America Vote Act (HAVA). In addition to being the EAC's founding document, HAVA was a significant disability rights milestone because it was the first time a federal law provided voters with disabilities the right to vote privately and independently.
We asked Lee a number of questions, including how both election officials and voters may benefit from utilizing veterans as poll workers. The EAC is currently promoting this practical and innovative solution to assist election officials in cultivating a service-ready group of hard-working, organized, and motivated election workers.
EAC: Please tell us more about PVA and your position as Senior Associate Director of Advocacy.
Lee Page: PVA is a national veteran's service organization chartered by the Congress of the United States and dedicated to meeting the needs of its members – veterans who sustained spinal cord injury or dysfunction. PVA was established in 1947 and currently has 33 chapters across the country with 20,000 members.  I joined PVA in 1990 and in my role as Senior Associate Director for Advocacy, I support the rights of PVA members and people with disabilities by advocating for the removal of regulatory and discriminatory barriers, through interactions with Congress, the Administration, federal agencies, other disability organizations, private business, and the general public.
EAC: PVA played an important leadership role in the enactment of the Help America Vote Act (HAVA). You were closely involved with drafting that landmark legislation. With regard to improvements in the voting process for veterans with disabilities, how has HAVA helped foster accessibility reforms?
Lee Page: The best part about HAVA is that it brought into focus the need to ensure that all ballots count and that they are accessible to all registered voters who have a disability. This includes voters who are blind and those with limited hand dexterity. Many veterans have disabilities that require the use of accessible accommodations secured by the passage of HAVA. The legislation also established the EAC, which has helped lead in promoting these accessibility provisions to both voters with disabilities and election officials.
EAC: During your participation in EAC's July panel discussion on veterans with disabilities in the voting process, you talked about the benefits of election officials utilizing veterans and veterans with disabilities as poll workers. Please tell us more about how you think this could help further educate voters and election officials.
Lee Page: Men and women of our armed forces who have retired from active duty to become veteran status are some of the most motivated, organized and ready to serve Americans. They have volunteered to serve their country, have put themselves in harm's way and continue to look for ways to serve. State and local jurisdictions are constantly searching to expand their base of volunteers who administer/man the polls on Election Day and beyond. Reaching out to local veterans' groups could be a way to increase workforce capacity. Veterans are hardworking, industrious, and multi-talented and have a sense of civic pride which can only be an asset to state and local officials working to ensure successful elections.     
EAC: What are some of the barriers impeding veterans with disabilities in realizing a private and independent vote?
Lee Page: Some veterans with disabilities who reside in a VA health care or long term care facilities' have trouble voting. These are veterans that due to their condition, cannot get out to vote on Election Day. As a result, these veterans request an absentee ballot and in some cases, they need to register to vote first. To fulfill the veterans' request, the department of Veterans Affairs relies upon volunteers, specifically from the "voting assistance program."
The Voting Assistance Program volunteers must be from an acknowledged non-partisan organization. Their duties include scheduling an individualized appointment with the inpatient/resident who requested assistance. The referrals/requests for assistance are handled by the Voting Assistance Program's office. They assist with completing voter registration and/or with obtaining and completing an absentee ballot via an established procedure.  Specific requirements for accomplishing this will vary based on the requesting individual's status – active duty, hospitalized via sharing agreement, versus veteran; and place of permanent residence.
Volunteers will only assist inpatients/residents in completing the forms and in providing additional information on voter registration/the voting process. The volunteer will not engage in discussion or attempt to influence the inpatient/resident in any way regarding their vote.
EAC: How is PVA working to address these challenges?
Lee Page: PVA has 33 chapters across the country and continues to advocate for accessible voting, at the polls and in the ballot box. Some of the chapters conduct voter registration drives amongst the PVA membership and other veterans. They continue to advise state and local officials on the need for accessibility at the polls when barriers are found. Some of the chapters are also on the volunteer voting programs on their local VA facilities.
We would like to thank Lee for his outstanding leadership in accessible voting over the years and on his advocacy efforts in ensuring accessible elections. All of us have an obligation to assist those who have given so much to their country to exercise their most basic right – the right to vote. Please check back next week as we conclude our month-long celebration of Veterans Day, by highlighting more outreach efforts from across the U.S.
Headshot photo of Lee Page is courtesy of Paralyzed Veterans of America