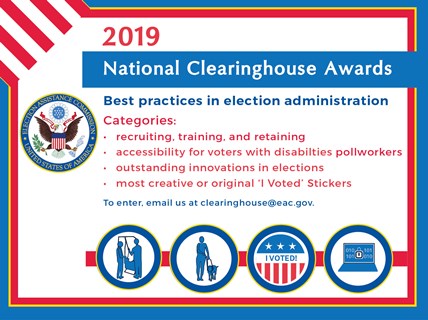 Sep 23, 2019
The new school year is in full swing across the United States, which makes this a fitting time to highlight a Clearie award winner in the category of Recruiting, Training, and Retaining Election Workers. This week, I caught up with Megan Anderson, Principal of Ely Memorial High School, to discuss their collaborative effort pairing students and veterans to serve at the polls.
Ely is located in northeastern Minnesota near the Canadian border, almost a four-hour drive north of the Twin Cities. Nestled in the expansive Superior National Forest amongst hundreds of beautiful lakes are the City of Ely and the Town of Morse. In an outstanding civics partnership, several entities in the area came together to train high school students and veterans to serve as poll workers for the November 2018 election. The program produced countless benefits for both participants and voters.
The school year is keeping Megan busy, so I appreciate her taking the time to respond to my questions about the program. Below are my questions and her responses.
EAC: Please tell us about Ely Memorial High School and your efforts to conduct civics outreach, especially the program connecting students and veterans to serve together at the polls.
Megan: We have amazing students at Ely Memorial High School – they excel in academics and are involved in many activities and sports. Ely is a very patriotic and proud town, which created a natural fit for our vets to work alongside our students in the polling place. Cole Kleitsch approached me last summer to create a unique program to increase our students' engagement in elections while also fostering a neat and beneficial relationship with local veterans. 
In conjunction with Ely Memorial High School, the City of Ely and Town of Morse recruited students and veterans to be trained and serve together at the polls on Election Day. This training model recognized that veterans have already "walked the talk" in answering the call to serve their country. It sought to inspire civic virtue, train competent election workers, and link generations in service to the voting public. The initiative prepared a new generation of student-age election workers who will be on the front line of elections now and in the future.
EAC: As principal, what role did you play with the initiative and what types of training went into the overall effort?
Megan: Connections were made immediately to local clerks and election judges. These entities eagerly sent personnel to participate in a student training session.  I was amazed to walk into the Media Center on the training night to find all of the tables filled with groups of students and veterans, deep in conversation about athletics, academic work, and personal experiences. In addition to the training session, students read through an election handbook and participated in a face-to-face course with local election judges.
EAC: How did Ely Memorial students benefit from participating in the program and what were some of their responses? 
Megan: To me, this is the best way to educate our students.  We were able to place them right at the heart of the election process and be trained on the machines and procedures. Their experience not only furthered their understanding of the elections process but also allowed them to create meaningful relationships with our community.
Here is a response from one of our students:
"When I got to the training, we were side by side with a veteran, which I thought was pretty cool because they're serving for our country again. We were all learning the same criteria to become an election judge and we were all different ages. There was a level of respect that I felt between us students and the veterans, it was unexplainable. We were all there for the sole purpose to serve for our country and our community. It was an amazing experience, and I am so thankful for this opportunity. I would definitely recommend that if anyone is thinking about doing this training with veterans, I say go for it. You will learn something new but you'll also gain a whole new respect for veterans and what they have done, and what they continue to do for our country."
EAC: This award-winning program was a team effort. Please tell us about the collaborative partnerships with elections officials, veterans, and other organizations.
Megan: This was an "all-in" effort from everyone. Our Social Studies educators welcomed Mr. Kleitsch into their classrooms to prepare and explain to students what this partnership would look like. The City of Ely, Town of Morse, and school district all worked together to pair students with the veterans. I would like to extend a huge thank you to Bob Niskala of the VFW for contacting our local vets to participate. It was a unique and impactful experience for our students to see these groups all work together.
EAC: Given the heightened focus on the upcoming 2020 presidential election, do you have plans to conduct this program in future elections? Do you think other high schools would benefit from similar programs?
Megan: We absolutely plan to conduct this program in the future. Getting students involved in civic duty is the best way for students to become engaged and informed voters in the future. Several of our students voted for the first time in the 2018 election and I can only hope it was all the more memorable having sat through the process with a Veteran. This was truly government in action and I would recommend this opportunity to every school!
The veteran-student volunteer program is a great example of how communities can come together to contribute to election administration. Although this entry from the City of Ely and Town of Morse represented the smallest Clearie winner by population, those involved obviously made a huge impact on students, veterans, and voters. Programs like these truly exemplify the spirit of the Clearinghouse Awards.
Please consider entering the EAC's 2019 Clearies competition. No matter how small or large the jurisdiction, you too could be an EAC awardee.
Stay tuned for additional interviews with 2018 Clearie contenders and winners!