Most Creative and Original "I Voted" Stickers:

Clark County Election Department, Nevada
The colorful Clark County, Nevada, "I Voted" sticker was designed to reflect civic pride and encourage voting through a unique sticker that incorporates iconic elements of Las Vegas in a patriotic motif. Designed in the shape of the famous "Welcome to Las Vegas" sign, the sticker portrays the Las Vegas Strip skyline in red, white, and blue colors alongside the Statue of Liberty. In use since 2016, it coordinates with the graphics and materials used for the elections division's outreach slogan of "Don't Lose Your Voice, Vote." 

Louisiana Secretary of State
Louisiana is unique in many ways. From its 64 parishes to its melting pot of cultures, the Bayou State is one-of-a-kind. In 2019, Louisiana's Secretary of State chose a local artist to create the art for the fall election cycle's sticker. The result, "In Love with Louisiana," features an artistic rendition of the state's bird, the brown pelican, and the seal.

State of Alaska, Division of Elections
In 2017, an elections official discovered a creative "I voted" sticker featuring a bear at a local store. Inspired, the elections office worked with an Alaskan artist to produce stickers for the 2018 elections with various Alaskan animals. Stickers included the moose, walrus, raven, Dungeness crab, king crab, eagle, caribou, and beaver. The stickers were enthusiastically received: voters across the state picked their favorites and started social media campaigns around the initiative. The stickers were also produced in Alaska's Native Language.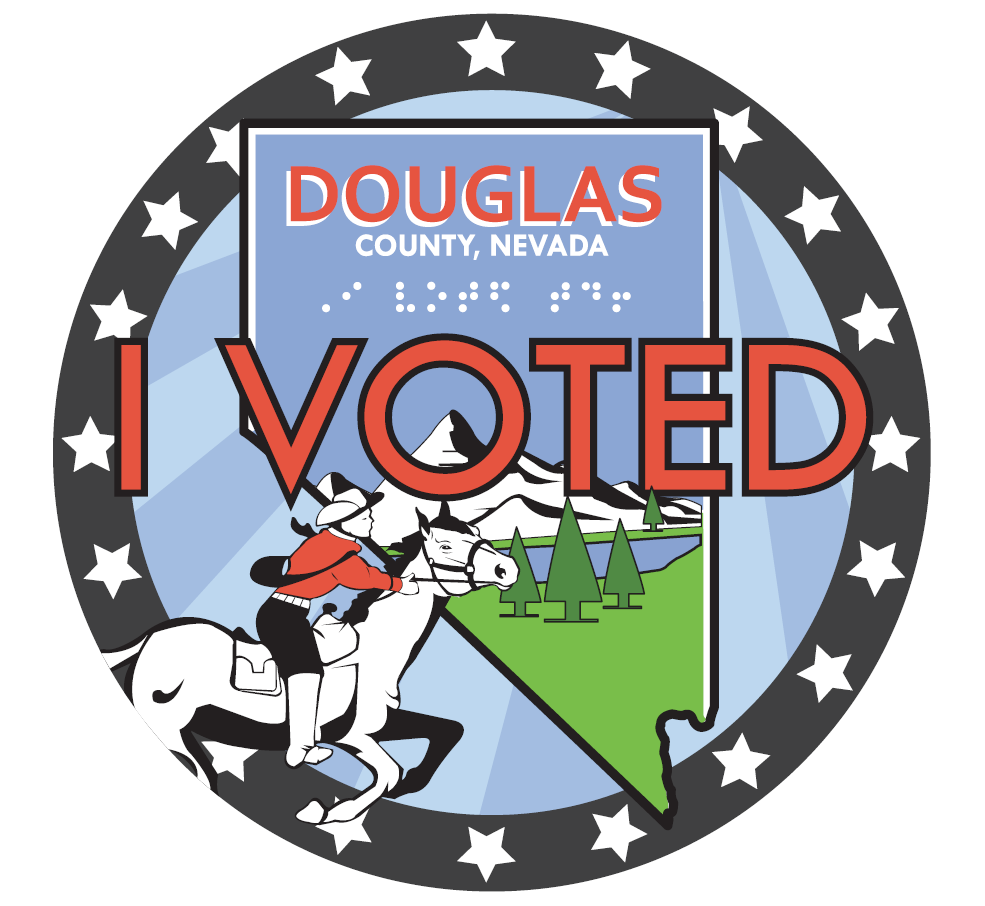 Douglas County, Clerk-Treasurer's Office, Nevada
In the fall of 2019, the County collaborated with the Nevada's Office of the Secretary of State and a local artist to create an accessible braille "I voted" sticker for use in the 2020 elections. As noted in their competition submission, "we are very hopeful that this campaign will catch on. And with so many visually impaired and blind people across our country, it's innovative design should help draw many people with or without disabilities to the polls." Along with the stickers colorful artistry and rich local design, the "white dots" indicate the Braille and will be raised by a die impression at the printers. In Braille it says, "I Voted Today!"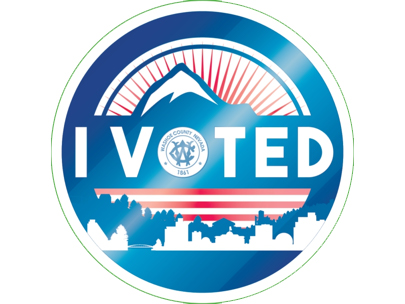 Washoe County Registrar of Voters, Nevada
In 2018, in conjunction with the introduction of new county-wide election machinery, Washoe County updated their "I Voted" sticker. The elections office wanted a new original sticker to go with the fresh look of the new voting machines and operations. The sticker features the Sierra mountains in the background and the city skyline to celebrate civic pride and the county's picturesque landscape.
Thank you to our winners and entrants