Jul 07, 2017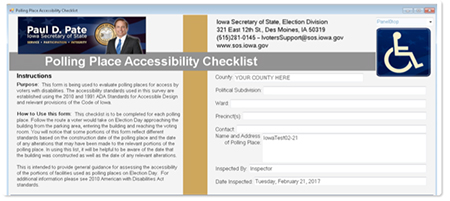 Since the passage of the Help America Vote Act (HAVA), people with disabilities have been able to exercise their right to vote privately and independently. During July, the EAC will be highlighting this vital law, as well as the Americans with Disabilities Act (ADA), and the advances these laws have brought to the voting process.
Recently, we caught up with Iowa's Secretary of State, Paul Pate to discuss his new innovative approach to furthering polling place accessibility. In 2016, Secretary Pate launched the "Helping Veterans and Iowans with Disabilities Vote" Initiative. With approximately 300,000 people with disabilities across Iowa, Secretary Pate felt passionately about empowering veterans and Iowans with disabilities as they cast their ballots. As part of this effort, Secretary Pate harnessed the power of tablet computers and implemented an ADA checklist app focused on polling place accessibility for the 99 county auditors across the state.
The effort has received praise throughout the elections community. Below are Secretary Pate's responses to our questions about the polling place accessibility app initiative and his commitment to serving voters with disabilities. 
EAC: Please tell us more about your "Helping Veterans and Iowans with disabilities Vote" initiative.
Secretary Pate: Helping people who might have difficulties voting understand the resources available to them, and helping them cast their ballot, is vital. The "Helping Veterans and Iowans with Disabilities Vote" initiative has been a massive undertaking by my office, but it has been very rewarding and eye-opening.
Utilizing videos and social media, revamping the Secretary of State's website, hiring an outreach coordinator, conducting training sessions and workshops, implementing new administrative rules, and numerous other avenues, we reached out to Iowans all over the state. The goal was to make sure Iowans with disabilities, and those that serve them, are aware of the resources available to help them participate in elections. It is important that they're able to make their voices heard by casting a ballot.
Making our veterans, and county election offices more aware of curbside voting for veterans with PTSD and other anxieties was one of the many important aspects of this program. That was one of the truly unique outreach elements that I think a lot of people do not consider, but a polling place can be daunting for a voter dealing with PTSD. Curbside voting is a great option for them.
EAC: Since launching your ADA Checklist app initiative in early April, how is the effort being received so far? What types of feedback have you heard from auditors and advocacy organizations for voters with disabilities?
Secretary Pate: The response has been very positive all around. The county auditors especially like how making temporary accommodations and tracking supplies is integrated into the app. It removes any guesswork the auditor might conduct when selecting and equipping polling sites. Disability rights groups, such as the Iowa Developmental Disabilities Council, have applauded the effort as well.
EAC: Why did you decide to implement the ADA Checklist app across Iowa?
Secretary Pate: It's another step toward modernizing our elections, which is something I believe every state in the country should focus on. Voter participation is one of my top priorities as Iowa's Commissioner of Elections. I want every Iowan to make their voice heard by casting a ballot. There are approximately 300,000 Iowans who have a disability and we want to make sure they have accessibility to the ballot. It's not enough to just make sure we comply with the Americans with Disabilities Act. There is so much more we can do to make sure polling places are accommodating for Iowans with disabilities.
EAC: The app was originally developed in Franklin County, Ohio. What inspired you to expand the program and include tablet computers as a key part of the effort?
Secretary Pate: Elections officials utilizing the app will benefit voters with disabilities. It also makes auditors' jobs easier. My office partners with all 99 county auditors to conduct clean and fair elections in Iowa. I know the auditors work hard, and any tool we can provide to help them conduct elections is worth pursuing.
EAC: What tips or best practices would you offer elections officials who are thinking about starting a similar program?
Secretary Pate: If you have the funds available for this, I encourage every entity that oversees elections to look into acquiring this app. It is much more user-friendly than the paper version of the ADA Checklist, and the tablets provide elections officials with the ability to easily capture a lot of information, such as photos, that will be available to them at any time. The Franklin County Board of Elections was extremely helpful in acquiring this app for us and I believe it's something that could be instituted nationwide. It's an excellent use of technology for election officials.
EAC: Given that you are passionate about helping people with disabilities in the voting process, how would you define success in this new ADA Checklist initiative?
Secretary Pate: A lot of people don't realize that elections take place a lot more than every two years or every four years in November. We have elections year-round and some auditors are already putting the app to use. It is a tremendous tool and I'm anxious to hear how all 99 counties utilized this new technology to make voting easier in Iowa.
We extend a big thank you to Secretary Pate for further empowering voters with disabilities. The EAC looks forward to recognizing July as accessibility month with additional blogs, events, and outreach materials. Check back here to our website and blog for additional information.