Oct 23, 2018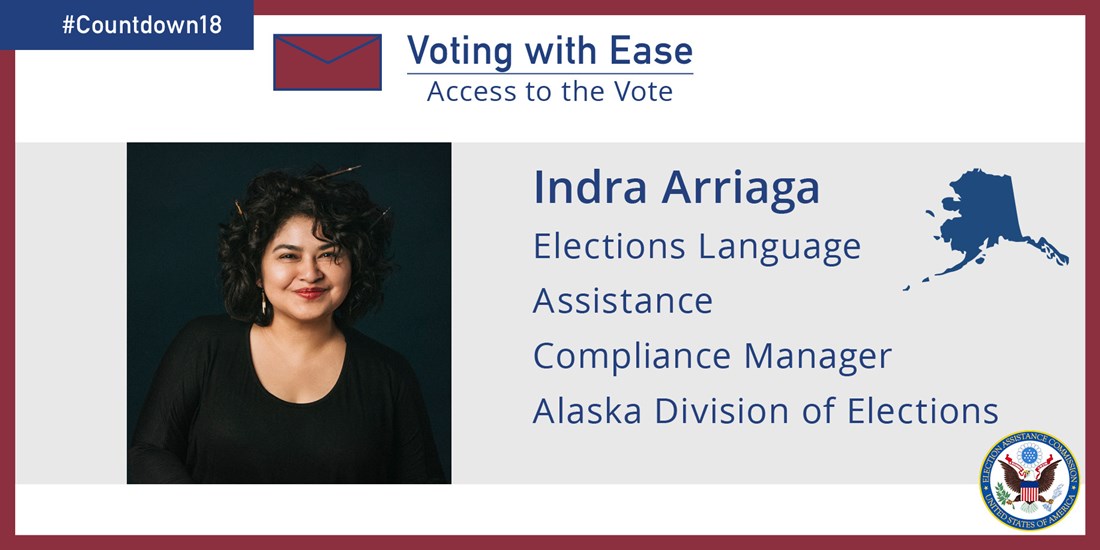 When you are talking about languages, things are not as simple as they seem.
Native Alaskans make up about 20 percent of the state's population. Within that community, there are 20 official native languages and within those, multiple sub-dialects, according to Indra Arriaga, the Elections Language Assistance Compliance Manager for the Alaska Division of Elections (DOE). "These languages are like Russian nesting dolls, with numerous dialects depending on the region."
Many of the native languages are not historically written, which presents great challenges for the DOE. There are efforts in Alaska to revitalize native languages, develop emerging speakers through Alaska Native organizations, tribes, etc.. DOE's efforts to translate English voting terms and ballot measures into many of Alaska Native languages not only ensures compliance with Section 203 of the Voting Rights Act and the Toyukak vs Mallott Settlement, but also dovetails into the larger statewide endeavor.
"Some native languages are more robust than others," says Arriaga. "For instance, the Inupiaq language is available through Rosetta Stone. But the Koyukon language is still not fully written."
Arriaga leads efforts to translate election terms and language for native speakers. This is no easy task.
"It's not like translating English to Spanish, where you have parallel words and meanings. Translating these languages is highly complicated. It's not just about words, it's about culture. For instance, the concept of the word 'candidate' does not exist in Alaska Native languages as a direct parallel," says Arriaga. "So we put together language panels of native speakers to help us develop definitions for such words. For the Yup'ik language, there are six different dialects. We bring together speakers from each dialect, they talk together about the concept of a word, such as "candidate" and use it in scenarios. Then, they come up with a description of the word. Once they have consensus on a term or different terms, then we write it down and put it in a glossary for use."  
Arriaga says the Alaska Division of Elections is committed to providing language assistance to all Alaska voters. The DOE currently features 14 languages on its website in varying degrees, with more robust translations for eight of these so far. Alaska's language assistance program provides translated election materials for languages that are historically written and oral language assistance for languages which are historically unwritten. Development of written materials for a number of languages were expanded in 2016 and this year, they are getting those materials out to the local communities through tribal councils and the Post Office. Arriaga reports for the upcoming midterm elections, DOE will distribute about 2,000 Official Election Pamphlets in Gwich'in and various Yup'ik dialects, which is more than they have ever done before.  
Language assistance in an Alaska native language, Tagalog or Spanish is available during any stage of the electoral process. Arriaga says recruitment of bilingual election workers and outreach workers is also a priority in Alaska. On Election Day, on-call interpreters are available. In addition, the DOE produces audio translations of election information and audio ballots for people with language needs or disabilities, so if someone wants to vote an audio ballot in the supported languages, they can. The translations can take a very long time to listen to however, so this is not a very popular method of voting. Fortunately, election workers, friends and family seem to be able to take care of translations more efficiently.  
While the DOE translates the ballot and other voting information into many languages, the actual ballots are all in English. Sample ballots are provided that mirror the English ballots in the different languages and voters use them in parallel. One reason for this is privacy. In smaller communities, election workers would know who used which ballots. Many of these communities count their ballots by hand. No matter how ballots are counted, almost 100 percent of precincts report results by the end of the night, there may be technical issues that prevent reporting until the next day but this is uncommon. These results are verified over the course of 7-10 days by actual people doing counts and verified by a state review board.
While 32 percent of Alaskans use alternative voting methods, such as absentee or early voting, the majority go to physical polling locations. The DOE conducted focus groups this spring to see what people thought about transitioning to vote-by-mail, as Anchorage recently did, or hybrid voting methods. Some people were concerned about the impact of the weather, which in Alaska, can be significant.
Arriaga said, "What we found is that most people really like voting in person. There's a social aspect to it. They run into people at the polls. Some communities organize treats for voters and there is a real community aspect to voting. No matter what language people speak, they feel welcomed."