Oct 22, 2018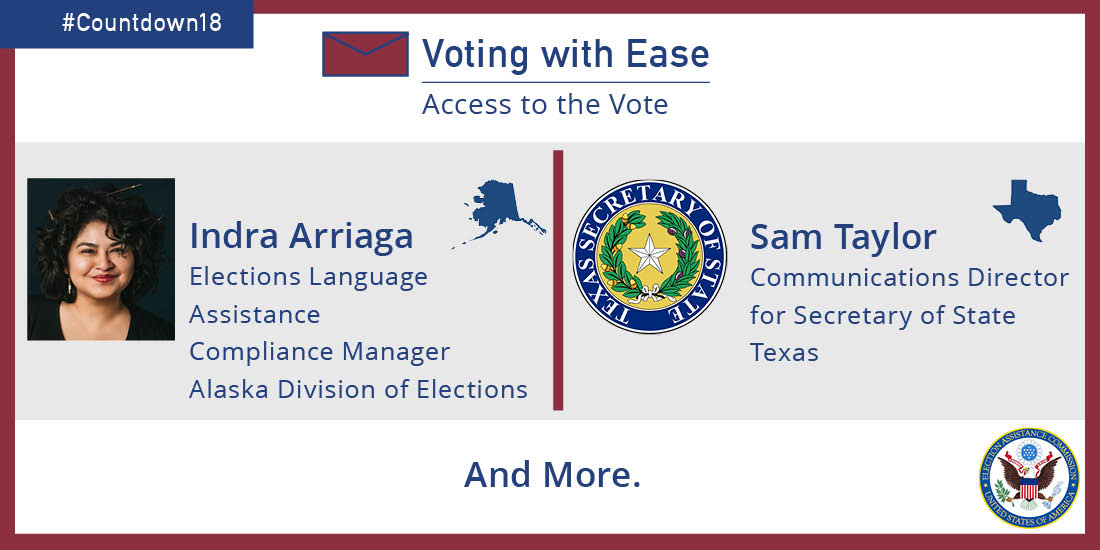 The right to vote is a time honored American right. But for some, that right is harder to exercise than for others. Those with disabilities can feel disenfranchised due to basic hurdles, such as curbs and doorways, or the ability to see and handle a ballot. Others may be challenged by a language barrier. And still others who are serving our country through the military, or live overseas, could be challenged due to lack of easy access to a post office or computer. 
The U.S. Election Assistance Commission (EAC) works with states to implement the Help America Vote Act (HAVA) which requires accessible, independent and private voting for all eligible voters.  
A study on voter turnout during the 2016 elections shows that while most people with disabilities reported voting, their turnout was 6.3 percentage points lower than for people without disabilities. If people with disabilities voted at the same rate as otherwise-similar people without disabilities, it is estimated there would be an additional 2.2 million voters. This shows the importance of access for this community.
The Americans with Disabilities Act (ADA) requires state and local governments to ensure that people with disabilities have a full and equal opportunity to vote. There are certain significant things election officials can do to provide access for those with disabilities. They can make sure polling places are accessible by eliminating any physical barriers and ensuring accessible technologies. They can train election workers on the definition and types of disabilities; appropriate communications and interaction through programs such as the Accessible Polling Place Location and Equipment (APPLE) class offered in Contra Costa County, California.
It is also important to provide education efforts for people with disabilities about their rights and the voting process. The EAC provides a tip sheet to help voters with disabilities know their rights. Oregon has a Voter Bill of Rights that specifically highlights the rights of the disabled: "You have the right to use a voting system for all Federal Elections that makes it equally possible for people with disabilities to vote privately and independently." Election officials can bring ballots or voting equipment to voters in long-term care facilities or make them aware of options such as no-excuse absentee ballots or vote-by-mail.
Another hurdle that some voters experience when they vote is the language barrier. Most states provide voter information and assistance in English and many other languages. California provides nine additional language translations. Alaska is expanding their efforts to include native languages, even those that are historically unwritten.
For many members of the military, their families and others living and serving overseas, the voting process can also be a challenge. The Uniformed and Overseas Citizens Absentee Voting Act (UOCAVA) was passed by Congress in 1986 and requires states and territories to allow members of the military, their families and citizens residing outside the United States to vote absentee. This law covers the more than 1.3 million members of the uniformed services stationed away from home; their 700,000 eligible family members and 5.7 million U.S. citizens living overseas.
For this community, the voting process starts with filling out a Federal Post Card Application (FPCA), which begins the absentee voting process. The FPCA is standardized for all states and will make the applicant eligible to receive a ballot for all federal elections for at least one calendar year. All branches of the military provide voter assistance. Throughout the world, there are Installation Voter Assistance Offices and Service Voting Action Officers that can provide assistance concerning unique questions and problems. Beyond the military, many states are going above and beyond to help military personnel vote. West Virginia, for example, is pilot testing a new mobile app to allow members of the military to vote securely and remotely without having to mail a paper ballot.  
This week, we'll learn what Texas, Alaska and other states are doing to improve the ease of voting for all.
The EAC is eager to hear about your experiences at the polls. Send feedback to listen@eac.gov. Your input will help us continue to update the tools and best practices that the Commission offers to election officials and voters.