Oct 26, 2018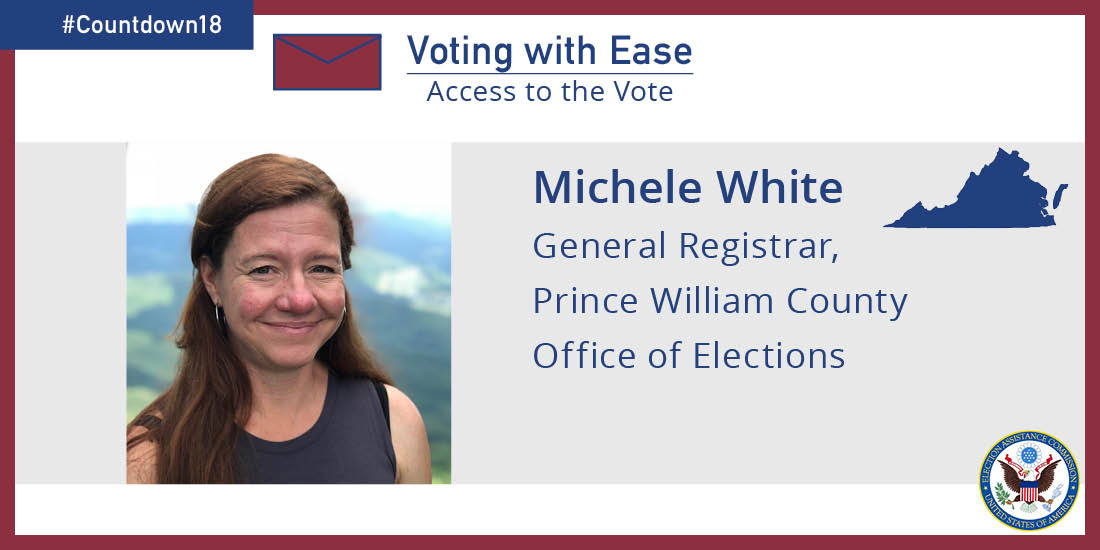 Prince William County made national headlines in 2012 for its three-to-four hour waits on Election Day. Many polls stayed open until nearly 11 p.m. 
"That is not what we want to be known for," said Michele White, Director of Elections and General Registrar for Prince William County Office of Elections.  
To get a handle on the issue, the Office of Elections studied data and demographics specific to Prince William County voters.
Based on this data, White says the Office of Elections determined the best way to get rid of the lines for the 2016 elections would be to shift 25 percent -- or 68,000 voters -- out of the lines on Election Day by getting them to vote absentee.
With that goal in mind, they went to work. First, they had to do some education.
"Many voters thought they had to 'qualify' or fit certain criteria to vote absentee," said White. "While there is criteria, it is pretty broad and therefore, we needed to make sure voters knew that."  
They also had to do some mythbusting. White says, "Many voters had the impression that absentee ballots were not counted. But state law requires election officials to count absentee ballots on Election Day."  
First, they mailed a voter guide to every household in Prince William County with educational information on absentee voting.
Then White says, they got to work on their target audience: commuters. Prince William is a commuter county, with 148,756 people commuting out of the county every day. Commuting out of the county is a valid reason for voting absentee. If they could convince about half of those commuters to vote absentee, they would reach their goal. So they launched a campaign to target commuters using electronic boards in all commuter lots. The Office of Elections also placed ads in commuter train and HOA magazines, on buses and at major intersections.  
White says the Office of Elections also targeted other audiences, such as first responders and active military with educational "trading cards."
"We had some fun with some of our trading cards," says White. "For instance, we wanted to let pregnant women know they could vote absentee, so we created a fun trading card that said 'Bun in the Oven? Vote Absentee.' We also wanted to let people who were elderly, ill or disabled know they could vote absentee. Another trading card said, 'Too Old (Surgery, Illness, Disabled?) to Stand in Line? Vote Absentee'. These trading cards provided information on how to vote absentee, deadlines and contact information, as well assuring voters that absentee ballots would be counted on Election Day."
"We also produced some quirky low budget in-house videos for Facebook," says White. "People don't expect their local government to have a sense of humor. But we did, and I think it really helped to catch people's attention, which was our goal."
"We also took steps to shave off time once people were in line. We recruited high school students to work the lines, asking voters to have their ID out and ready before they got to the check in table," says White. "We provided ballots directly to each voter, cutting out the voting permits. Most of our marking booths were stand up, cutting the time it takes for people to sit down to vote. And we provided two optical scanners at the larger polling sites. Every second counts and it all added up thanks to each of these efforts."  
"The campaign worked!" says White. "All ninety-one polling locations closed on time in 2016. And more than 25% of voters shifted to absentee voting. These were the results we were looking for."
November 6th is right around the corner and White says Prince William County is ready. The Office of Elections repeated the voter information on absentee voting in the voters guide they mailed to every household in the county. They are saving the quirky trading cards for 2020, partly due to budget and partly because too much repetition will result in people ignoring the message.
"Currently there are 284,000 registered voters in Prince William County and absentee voting is up significantly in Virginia compared to 2017," says White. "That's good news for all voters in Prince William County."
For more information on voting in Prince William County, Virginia, visit the website.