Oct 12, 2018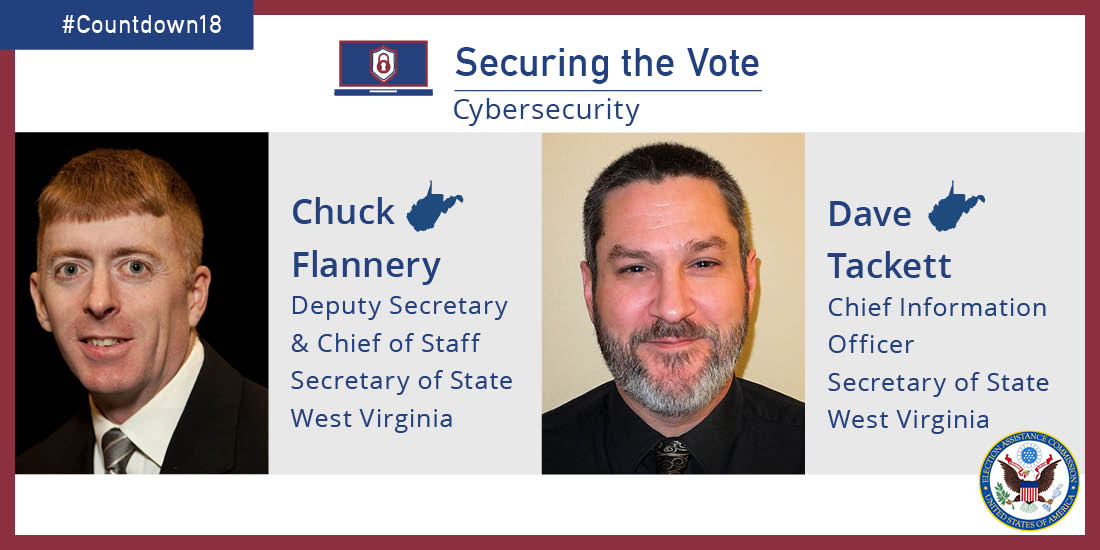 West Virginia: Wild, Wonderful and Innovative. In the world of cybersecurity, West Virginia is taking big leaps and experimenting with new ideas to make their elections safe, secure and accessible.  
For instance, West Virginia embraced tabletop exercises for election cyber incident training early in preparations for the 2018 midterm elections. Tabletop exercises are simulations of worst-case scenarios for election officials to practice communications protocols, test incident response plans, and ultimately, increase awareness and preparedness. West Virginia worked early on with Harvard University's Belfer Center to help develop proper tabletop exercises for the elections space that has been recently designated as critical infrastructure by the Department of Homeland Security. These exercises are now provided online by the U.S. Election Assistance Commission to all states.
Chuck Flannery, Deputy Secretary and Chief of Staff for the West Virginia Secretary of State's Office, says, "We gave our staff and local election officials the worst possible Election Day scenarios and evaluated their responses. It exposed our election officials to experiences that had never been encountered or even considered. This is the new normal in cybersecurity in the elections ecosystem. State Chief Election Officials are now charged to educate, train and test local election officials, and then repeat: education, training and again test local election officials some more."
Through tabletop exercises and continuous communications, West Virginia has offered the nation's most advanced election security training to election clerks who, in turn, are prepared to address election threats in real time.  
Flannery continues, "By testing election officials in a compressed timeline, we hope that when they are exposed to challenges and threats in real time, they will be sharper and more informed."
Another innovative effort is West Virginia's new secure mobile app for uniformed and overseas citizens to easily vote absentee without hindrances that minimize access to voting. Secretary of State Mac Warner's own personal experience drew his attention to the problem of extremely low military participation in elections. As a member of the military himself, he faced challenges in voting while he was deployed. Military voters need equipment not readily available to those on orders, such as a computer, scanner, printer and internet access. When Secretary Warner came into office, he charged the Elections Division to find a solution to the problem. Thanks to an investment by a generous philanthropic donor who shares the same concerns of military participation, West Virginia initiated a mobile voting application as a solution.
Using multiple layers of security, identity verification and "block chain" technology for storage of votes cast, the result is a secret ballot that provides a voter verifiable email with a copy of the ballot selections. The voter verified ballot can then be used for post-election audit purposes to ensure the accuracy of the Election Day tallies.
In the May 2018 primaries, a prototype was tested in a pilot project with two counties. After the election, the app passed four security audits. During the midterm elections this November, 24 counties are participating in the second round of the pilot of the military mobile voting system.  
Dave Tackett, Chief Information Officer for the West Virginia Secretary of State's Office, says, "We are not wedded to this app. At the end of the day, if something goes wrong, we will find another solution. We want to ensure that we are moving forward with something that warrants our full confidence. So far though, the tests look good."
Another innovation is their focus on communications. State Fusion and Intelligence Centers came out of the communication challenges identified after 9/11, when it became clear that a number of federal agencies had pieces of the puzzle to the terrorist attack, but had no avenue to share that information. That same situation played out in the 2016 elections. Now, election security is part of the Fusion Center's priorities. Personnel from the West Virginia Office of Technology and the Secretary of State's Office is now housed within their Fusion Center, to establish a cyber presence. Further improving upon this model, the West Virginia National Guard has also supported the election protection strategy. Its members have been instrumental in the coordination of an effort to establish a concept of operations framework to which other states can adhere in establishing similar lines of communications with officials, first responders, and other cybersecurity partners.
While West Virginia has been a real innovator in election security, they still face challenges. Many of the counties struggle financially. Flannery says, "Choosing between everyday issues, like road repairs and jail bills to additional election expenses, can be an impossible decision. The state has tried to ease the burden by providing matching grants through the second round of HAVA funds and additional state efforts." Thanks to those funds, upgrades in election equipment are currently ongoing.
In 2016, only 16 percent of West Virginia registered voters were voting on upgraded election equipment. In 2018, that number has jumped to 43 percent and it is expected the number could jump to at least 64 percent in 2020. But there is still the other 36 percent of registered voters who will continue to use old equipment, because these counties have challenges that include the inability to afford the match to qualify for a federal grant. "We are very confident that our efforts have secured necessary funding for state level security of election systems without any additional funding from federal sources. However, it is our hope that the federal government will consider additional funds to offer to local election officials to upgrade election equipment and security," says Flannery.  
From his perspective as the CIO for the Secretary of State's Office, Dave Tackett says West Virginia voters should feel very confident in the security of their election process.
"We use paper ballots. Our election equipment is not connected to the internet. Our elections happen in an isolated, non-connected space. We require mandatory public testing of our voter equipment. And we do a post-election hand count of 3 percent of our precincts to ensure the accuracy of our voting equipment. All of this ensures security and confidence."
Tackett encourages all voters across the nation to participate in the electoral process, "Go to the public testing of the voting machines to educate yourself on the process. Be certain you are registered to vote before the registration deadline. West Virginia residents can visit www.GoVoteWV.com to check the status of their voter registration for accuracy and to find the appropriate polling location for Election Day. Most states have features similar to West Virginia's online lookup tools, you can contact your local election official for this information. Don't wait for Election Day. Get involved and vote!"