Oct 10, 2018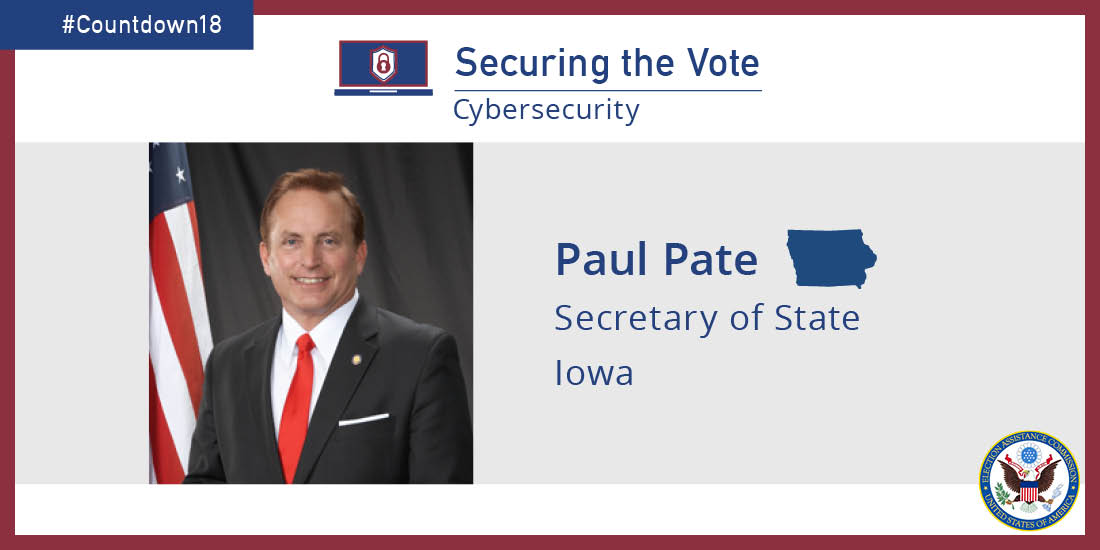 When the presidential elections come around every four years, all eyes are on Iowa.  
"We are the first in the nation for caucuses and we want to be first in the nation for cybersecurity. This is a race without a finish line, and we intend to lead this race," says Secretary of State Paul Pate.   
Secretary Pate has taken numerous steps to bolster election security in Iowa. In May of this year, he announced the formation of the Iowa Election Security Working Group. The group includes the U.S. and Iowa Departments of Homeland Security (DHS), the U.S. Election Assistance Commission, the Iowa National Guard, county auditors and information technology specialists, Iowa's Office of the Chief Information Officer, and other entities.
"This group will be developing a long-term approach to ensuring the health of our elections," says Pate. "We are looking at the 2018 elections and beyond."  
Security measures already in place include placing ALBERT censors on Iowa's voter registration database, which provides automated alerts on network threats; encrypting electronic poll books and data transfers; and working with DHS to conduct regular cyber-hygiene scans and vulnerability assessments.
Iowa will also conduct post-election audits in one randomly selected precinct per county following the November 2018 elections.
Iowa has made cybersecurity training a priority for all election officials, including the Secretary of State's staff, county auditors, election staff and county IT professionals. The state also requires everyone with access to the Voter Registration database to take "Secure the Human" training.  
"My theory is that we need to make the human firewall as strong as the electronic firewall," says Pate. In addition, the state is conducting tabletop exercises to run election officials through worst-case scenarios, and what their responses would be.
"These are very hands on exercises and that's what our election officials appreciate most," says Pate. "It's as close to the real thing as possible. We want them to walk away from the exercises thinking 'I've got this!'" Pate says his team looks at the results of the exercises and tweaks them to address issues where more training might be needed in the future.
Iowa has taken a unique approach to working with the State's Office of the Chief Information Officer (OCIO) and the counties. "We have taken a direct outreach approach with counties in our partnership with the State OCIO.  Intrusion detection systems, malware detection, and online training are just some of the services provided. A strong push over the summer resulted in one or more of these free services being utilized in all 99 Iowa counties."
For the long term, Iowa is in the process of launching a new I-VOTERS registration database. Pate says the state now has a better understanding of the threats that exist, and will be building a system with forward looking procedures. He expects the system to go live in three to four years. This is not a quick fix, but it is an important investment in the infrastructure of the state's elections.  
Pate wants Iowa voters to be informed on the security measures the state has in place. That's why Iowa has provided all 99 counties with customized versions of the  "Last Mile Project" posters to hang in all polling sites to illustrate the security measures being taken on a local, county, state and federal level to secure the elections. By educating voters on the cyber security measures in place, it will help them feel confident in the election process.
But even with all of these efforts, outside forces can still be very successful in manipulating the results of our elections with the influence they can have through social media and other propaganda efforts. Everyone has a role to play in the security of our elections. Pate also asserts voters need to be critical about what they read, consider the source of the information and check its accuracy before they believe it or share it with others.
"Most importantly, voters need to vote," says Pate. "We have the longest early voting period in the country and same day voter registration. We want to make it as easy as possible for people to vote." Visit https://www.vote.org/state/iowa/ and be prepared to vote.