Oct 11, 2018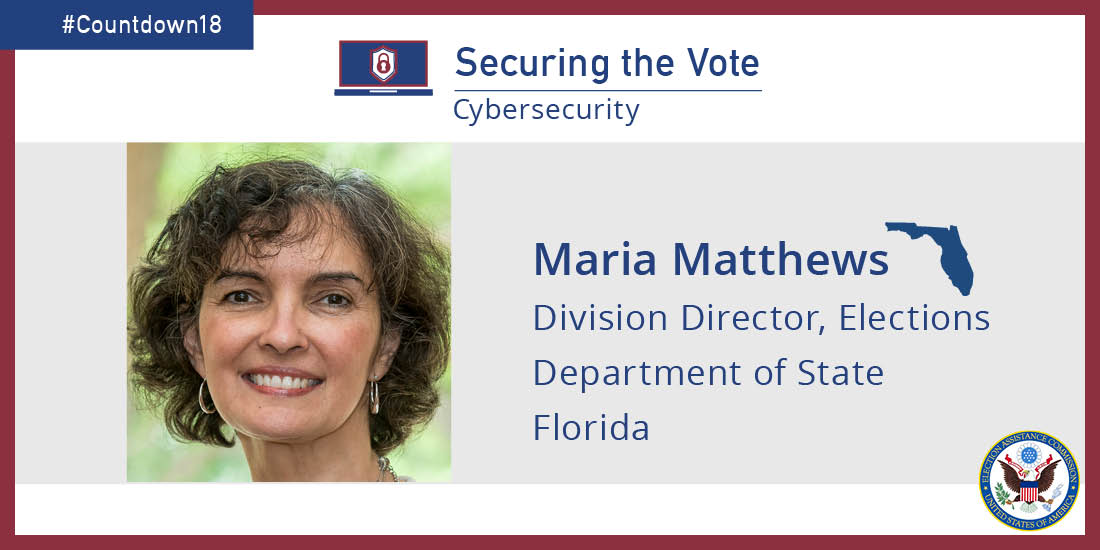 "Cyber security is not new for the state of Florida," says Maria Matthews, Director of the Division of Elections at the Florida Department of State (DOS). Even prior to the 2016 elections, Florida upgraded to state-of-the-art hardware, software and firewalls to safeguard voter information in the Florida Voter Registration System (FVRS) and prevent any possible hacking attempts from being successful.
Further efforts are possible thanks to $19 million in Help America Vote Act (HAVA) funds provided in 2018. Local Supervisors of Elections are using more than $14.5 million of that funding to make significant investments in election security prior to the 2018 elections.
In May of 2018, the governor announced the hiring of five cybersecurity specialists in the Department of State (DOS) to assist state and local election officials with election security. This team of cybersecurity specialists serves as a resource to all of Florida's election officials.
DOS received $1.9 million in funding during the 2018 legislative session to provide grants to Supervisors of Elections for the purchase of a network monitoring security solution called ALBERT. The ALBERT sensor provides automated alerts of system threats that will allow counties to respond quickly when data may be at risk. The majority of counties already have their ALBERT sensor up and running or are in the process of getting them online. DOS also has an ALBERT sensor.
DOS is working diligently with Supervisors of Elections to help Florida counties modernize their voting systems. Since 2015, 55 out of 67 Florida counties have completed a voting equipment modernization by either updating their voting system software and/or hardware, or purchasing new voting equipment. The majority of the remaining counties are in the process of completing a modernization or upgrade. In 2015, DOS offered 25 small counties a four or five- year voting systems assistance grant funded by HAVA to help modernize their voting equipment.
Uniform standards were put in place in July 2017, relating to file specifications, timelines, content, transmission and reporting of election results. Additionally, DOS is constantly enhancing the security of the Florida Election Watch website to ensure there is no disruption in reporting unofficial results on election night.
In addition to infrastructure efforts, DOS is also reinforcing the security knowledge of state and local election officials by providing cyber security trainings through a partnership with the University of West Florida Center for Cybersecurity. The trainings included an introduction to cybersecurity processes, threats, vulnerabilities, risk management, policy frameworks and incident management. Course graduates learned how to thwart attacks and to understand and implement cybersecurity standards.
Matthews says, "Through these training efforts, we have learned that strong partnerships and timely communications are essential to protecting against the threat of cyber-attacks."
While the responsibility for election administration rests solely with state and local election officials, the cooperation and support of federal partners is critical to ensuring the security and integrity of our elections. DOS works closely with the Department of Homeland Security and the Multi-State Information Sharing and Analysis Center (MS-ISAC), which identifies and shares information about potential threats with states and assists with the 24-7 monitoring of state networks for suspicious activity as well as many other private and public partners. "A strong partnership among local, state and federal partners is one of our best weapons against the ever-evolving threat of cybercrime," says Matthews. "Through these relationships and a continued laser focus on elections security, we will ensure elections in Florida and across the country are fair, accurate and secure in 2018 and beyond."
"The Department of State's top priority is the security and integrity of Florida's elections," says Matthews. "Voters can be confident when they head to the polls in November that their vote is secure."
Voters can find resources and information to Get Ready. Get Set. Vote! at www.YourVoteFlorida.com.