Nov 01, 2018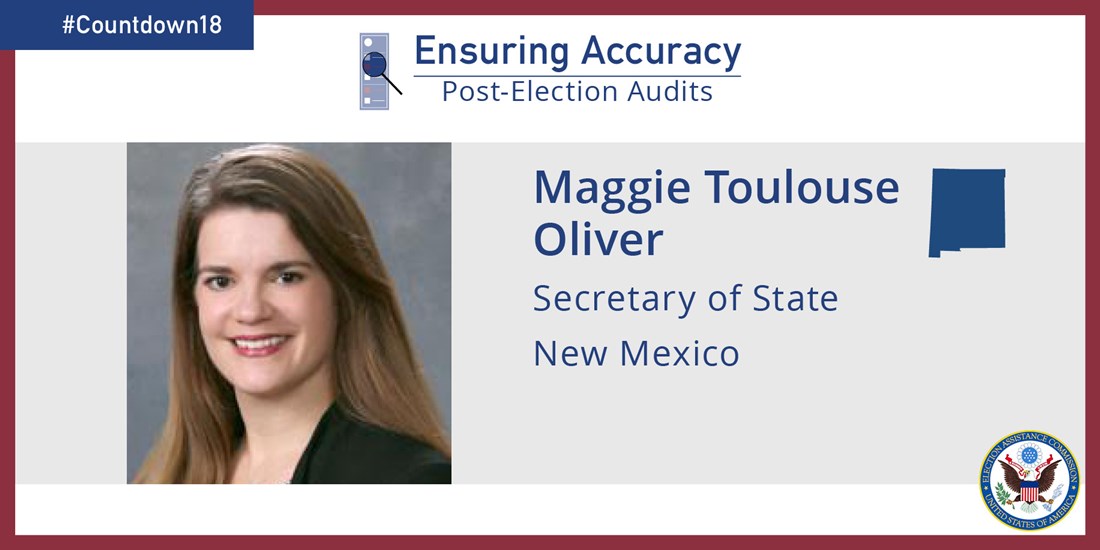 While all eyes were on Florida waiting for the results of the 2000 presidential election, there was a whole other recount happening in New Mexico. It took until November 17th before the state was called for Al Gore with a 0.06 percent margin.
This squeaker election and widespread claims of errors in subsequent statewide elections prompted New Mexico to make changes in their election process, according to Maggie Toulouse Oliver, Secretary of State for New Mexico.
Secretary Oliver says there was great demand for changes to the election process that would ensure accurate election results; data and information about the performance of voting systems, processes, election administrators, and poll workers; and opportunities for continued transparency and improvement of the policies and procedures used to conduct elections.
New Mexico enacted a post-election audit law in 2005. The law called for the implementation of a voting system audit to occur after the 2008 general election. This form of audit would consist of two percent of the tabulators used in the state to undergo a review for accuracy.
Secretary Oliver says, "In 2006, New Mexico adopted an all-paper voting system to provide a paper trail of all votes cast, and began looking for opportunities to implement processes that would increase transparency in the administration of elections."  
"After the implementation of the paper ballot requirement, and before 2008, activists for election integrity, including election administrators and academics, received approval to conduct a trial-run audit so that procedures could be developed and fine-tuned before the state was required to conduct its first required audit," says Secretary Oliver.  
The trial audit used 2006 general election results and tabulator programming.
"The trial run provided a great deal of information to consider for the procedures to be used during the actual audit, and even prompted additional consideration for future election auditing regulations," says Secretary Oliver.
In 2009, New Mexico moved from the two percent tabulator audit to its current risk-limiting voting precinct audit model.  
"The current post-election audit provides a statistically reliable way to check for errors at the voting precinct level, in a manner that not only identifies the degree of impact from the error, but provides for swift resolution," says Secretary Oliver.
According to Secretary Oliver, the current post-election audit consists of a random sampling of voting precincts. The risk-limiting audit is based on actual election results and is conducted prior to the certification of the official election results. The number of voting precincts picked is based on the margin of victory in a given race and a formula is set forth in statute – a small margin will equate to the audit of a greater percentage of voting precincts. If, and when, discrepancies are found during the audit, additional voting precincts will also undergo an audit.
Beyond the post-election, pre-results certification audit, New Mexico also requires the automatic recount of certain races when the margin of victory is close. Many of the same procedures used in the audit take place during the recounting of ballots for these races. In 2014, New Mexico underwent a statewide automatic recount for the Land Commissioner race.  
"The results of the recounting of every ballot cast around the state, which did not change the outcome of the race, provided resounding assurance that election laws and processes in New Mexico offer both reliability and transparency to the electorate when it comes to their votes," Secretary Oliver says. "When voters know that their ballots are going to be counted correctly, and thus have confidence that their voices will be heard, there is a greater likelihood that they will participate in the election."