Nov 02, 2018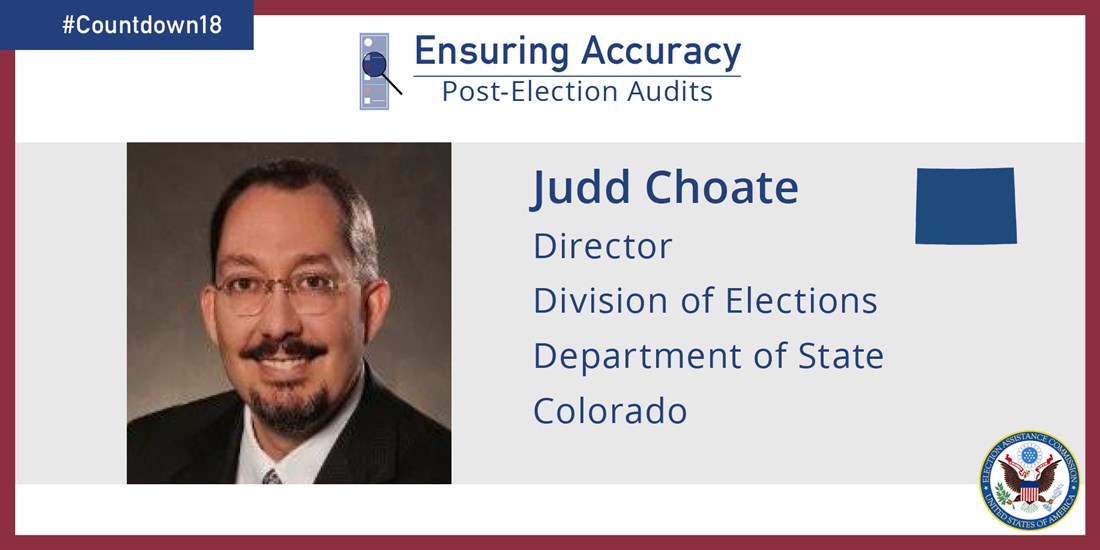 When Hillary Hall started her job as a county clerk in 2007, Judd Choate, Director of the Division of Elections for the Colorado Department of State, says she already had years of experience under her belt as an election judge and an election activist. Hall's enthusiasm led her to explore better ways to conduct election audits. 
At that time, Colorado was conducting post-election batch comparison audits. During her research, Choate says Hall learned about an auditing process called Risk-Limiting Audits (RLA). This type of audit had never been used for elections, but she thought it looked like a more sophisticated way to do an election audit. She and two others convinced the Board of Elections and the governor's office this was the way to go and worked with the general counsel for the governor to write legislation requiring Colorado to conduct RLAs. That legislation was passed into law in 2009.     
"The general concept of an RLA for elections is easy," says Choate. "We review ballots based on how close the outcome was in that election. We would review more ballots if the race was close and fewer if the margin of victory was wider. That sounds easy, right? But that process gets more complex when you start applying it to an entire state with different styles of ballots and different races."
The law gave Colorado five years to implement the first RLA in the country, so Choate's team got to work. The state received a grant from the U.S. Election Assistance Commission for $250,000 research on how to conduct an RLA.
"We spent 2010-14 working with world class mathematicians and statisticians from Berkeley, Columbia and MIT on how to bring together the math so that it could actually produce a ballot selection process that we could compare to an outcome," said Choate.  
"We learned that this was a three dimensional problem: we had to take account of multiple jurisdictions; races that vary across those jurisdictions; including those in which the voter could vote for multiple candidates," said Choate. "All these layers of problems required answers to understand how the math would work. We started wading into it and realized how many questions needed to be answered to create a formula to pull the correct ballots."
"By 2013, we figured out there was a low likelihood we could run a RLA on the 2014 elections and would not be able to meet our statutory deadline," says Choate. "Colorado County election officials worked with the legislature to push the deadline to the 2017 General Election. This would allow us to conduct an RLA that really worked and incorporated the latest equipment, coupled with the most persuasive math formula."
To conduct an RLA, Colorado had to purchase machines that could provide a cast vote record (CVR), which is a record of the votes cast on a particular ballot. Choate says the state created a working group of county representatives to identify a vendor that would be able to produce a system to allow the state to have a good voting system with a CVR. The committee identified two vendors and the state certified both for operations in a Colorado elections.
The RLA in Colorado is a ballot comparison audit, in which one looks at how the scanner read or interpreted a randomly selected ballot and compares that to what a human says was on that ballot.
Choate says, "The first version of the software could only work at the county level with county races, so we did 64 little audits, one for each county, all separate and distinct from the state. For 2018, we had to figure out a way to do that across statewide races. We now have software that knows how many ballots need to be selected in each county to review a statewide race."
Colorado's RLA is scheduled for November 15th. It's a multi-day process. Choate expects the results will be finalized by November 17th.
Choate says the RLA system created by Colorado can be used for any kind of election.
"A Risk-Limiting Audit looks daunting, and it is hard work, but not overwhelming. The code we created and the math embedded in the code is open source. We welcome anyone to use that code and that math to improve their election auditing process."  
Choate invites anyone who wants to learn more about audits and the way Colorado does theirs to let his office know.
"We are happy to explain it, happy to invite you to watch and understand the way we do our audits and also willing to go to you and explain how we do our audits. This is not just good for Colorado, but good for elections. We are prepared to go on the road and sell it!!  We are that proud of it."
Choate says that for the past two election cycles, Colorado has had numerous election officials from dozens of states come to observe how the RLA works.
Choate knows, for the most part, what election officials do is often shrouded in mystery.
"The voters have to trust that election officials are doing their job properly," he says. "What an audit does is allows the public in, and gives them the sense that the process we are using is capturing their votes accurately. Through an audit, we are grading our own work in a public setting. We are randomly selecting ballots and comparing them to the cast vote record for each one of those ballots. This process gives voters confidence in election outcomes and their election officials."
"The nation's greatest election security problem is a lack of confidence in how our elections are conducted. This fiction that there are legitimate concerns about our election process needs to be dispelled and the best way to dispel it is through sunshine, and the best sunshine is an audit," says Choate.   
To learn more about elections in Colorado, visit the website.