Oct 04, 2018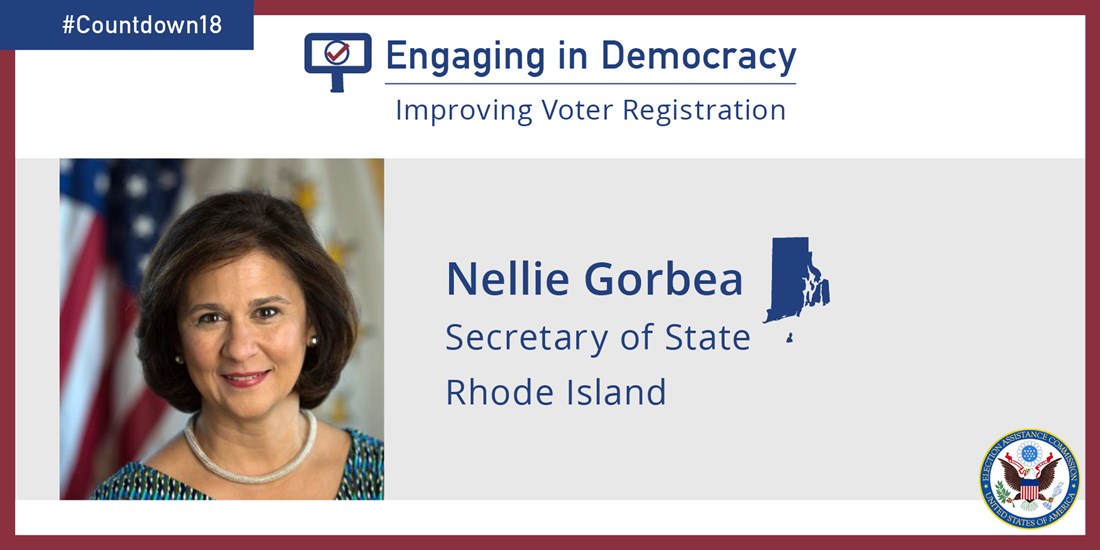 Rhode Island Secretary of State Nellie Gorbea was Deputy Secretary of State in 2004 when she combined the state's 39 municipal voter lists into a central voter registration system with online access. That effort was possible thanks to the first infusion of Help America Vote Act (HAVA) grants.
Technology, and knowledge of best practices and building applications, has changed dramatically since then. Today, Secretary Gorbea is once again leading the charge to develop a new voter registration system.
Rhode Island will be building this system internally, thanks to their extensive expertise. The resulting software will be owned by the state and will upgrade the database platform, the code and implementation. This will be ready for the 2020 elections, thanks to 2018 HAVA funds.
For 2018, the focus is on voting equipment and auditing. Rhode Island recently replaced its 19-year-old voting machines for the 2016 elections, but with the additional HAVA funding, it will be able to provide the municipalities with more machines that will help expedite the voting process.
In June, the Rhode Island General Assembly passed a law that requires risk-limiting auditing of voting machines starting in 2020. Gorbea says HAVA funds will help the Board of Elections purchase the services it needs to meet this requirement. This will help the state determine whether its voting machines are performing properly and help find and address flaws.
Over the last two years, Rhode Island has been pilot testing electronic poll books (e-poll books).  The e-poll books were rolled out ahead of the September primary. Gorbea says, "I am hugely happy with the results. Voters loved it. Poll workers, from age 16 to 85, loved it and the clerks love it." E-poll books don't just make it easier on poll workers and voters, they streamline the process for counting votes. "We used to have to scan each individual ballot application to show that a person voted," said Gorbea. "Now that is done with the synchronizing of the poll books. A process that used to take cities and towns weeks is now instantaneous."
Data in the e-poll books is totally secure. The Rhode Island constitution requires that voter registration be closed 30 days before an election so no one can tap into the Central Voter Registration System on Election Day.
Election security is a priority for Rhode Island. The Rhode Island Department of State and the Rhode Island Board of Elections are partnering with the Rhode Island National Guard, the U.S. Election Assistance Commission and the Department of Homeland Security (DHS), as well as local universities. The Rhode Island National Guard conducted a vulnerability assessment of the state's e-poll books earlier this year. Over the summer, the DHS performed external penetration testing and vulnerability scanning to assess any cybersecurity concerns with the voter registration system. As Gorbea says, they always find something. But that something provides the cyber experts in her office with areas that are then improved and secured.
Gorbea has focused a lot of energy on trainings, both for her own staff and local election officials. In 2017, she organized a cyber summit for local election officials. She wanted local officials to understand how their world was changing and what they were going to do about it.  She brought in two experts from Salve Regina University in Newport. One professor provided an overview of Russian meddling in democracies dating back to World War II. "This presentation depoliticized the conversation, by helping us all realize this was not about just one election," said Gorbea. "This is about a government that has never had representative democracy trying to undermine those that do."  
Another professor provided a 101 on cyber hygiene; explaining what we have to do and why, and went into all the security measures we have put in place over the past few years. In June, Secretary Gorbea conducted tabletop exercises with local and state officials. These are simulations of worst case scenarios for election officials to test their infrastructure and expertise, in advance of any actual incidents.
All of these efforts have been critically important. Gorbea says, "I can have really awesomely trained staff in my office, but the running of elections is a community endeavor, and we are only as strong as our weakest link. Now, all of our local officials understand why cybersecurity matters, what the state is doing and what their role is in ensuring safe, secure elections."
Secretary Gorbea says, "Rhode Islanders should feel confident that we have taken all necessary measures to protect the integrity of the vote." She hopes they also understand that the security of our elections is not a destination, but rather a continuous process of assessment and constant improvements to our systems to mitigate risks.
Gorbea reminds us that every voter has a role to play in the security of our elections. You can do your part by going to the voter reg system at https://vote.sos.ri.gov/ View/Update My Voter Record. If you are registered to vote, you can enter your name, date of birth, and zip code to check your current voter registration record.