Oct 02, 2018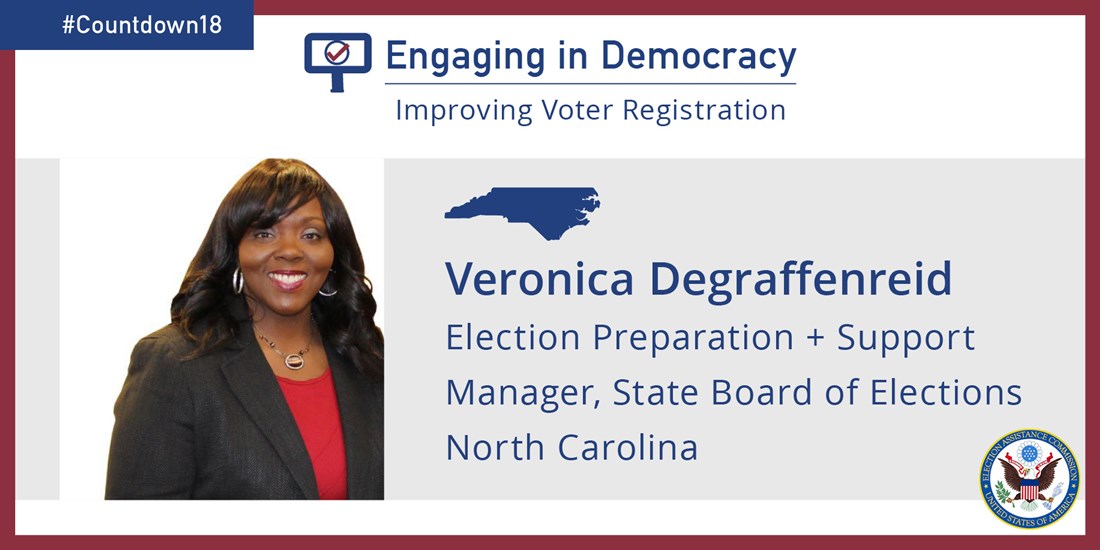 North Carolina was ahead of the game before the 2018 Help America Vote Act (HAVA) funds were approved in March.
The State Board of Elections was already engaged in a process to revamp its statewide election information management (SEIMS) and voter registration systems. But with the HAVA funds, the state is getting the extra financial resources it needs to move the process along in an expedited fashion.
"The HAVA funds were very timely and will go a long way to ensure the integrity, security and public confidence in the election process," said Veronica Degraffenreid, Election Preparation & Support Manager for the North Carolina State Board of Elections & Ethics Enforcement (State Board). "The fact that the federal government can support our efforts is fantastic and puts us in a better position."  
The North Carolina SEIMS was established in 2006 and has been used by all 100 counties. The SEIMS is made up of a suite of 13 systems that manage various election processes, including voter registration, ballot styles and election reporting. The system was configured specifically for North Carolina. It owns the source code and has continued to develop it and add applications. After a while though, it became clear that the old system could no longer be enhanced enough to keep up with the demands of the state and it was time for something new.
The State Board explored bringing in vendors, but felt that the state had unique and different needs that might not be addressed with a ready-made system.  
"What might work in one state might not work for another state," says Degraffenreid. "We need to continue to be nimble enough to make changes to the system based on election law and policy. So we decided to build the system ourselves from the ground up."
By tapping their own institutional knowledge and working directly with county boards of elections, North Carolina is building a new system that will meet all of the state's needs. The state knows the system must be secure, transparent and provide voter data easily. It also needs to be flexible, to allow for changes in state laws, respond to changing security needs and be accessible.  
"We have a lot of customers that rely on this system," said Degraffenreid, "including election officials, county boards, polling officials, candidates, media and the public."
North Carolina has a lot of data that moves through its system. Degraffenreid says that in a typical Presidential Election year, there are up to 2.5 millions transactions to be processed, including data entry, mailings, ballot production, redistricting and voter registration applications. All transactions must be completely safe and accurate.  
North Carolina law requires that all voter registration information be made public. Degraffenreid says in the current system, staff spend a lot of valuable time answering public records requests. "In the new system, county administrators and ordinary people will be able to easily access data and run their own customizable reports." In the long term, Degraffenreid says they hope to also provide stock reports that will be available online for the more common data requests.  
North Carolina expects the new voter registration system will be in place by June 2019. Testing will then be conducted on the system and it's expected to be up and running for public use by December 2019.  
In the meantime, the state is doing everything possible to bolster the security of the current system. They have budgeted more than $500,000 in federal grant funds and $200,000 in matching state funds for the effort. Through a partnership with the Department of Homeland Security (DHS), the state has provided security briefings for local election officials. They have also hired a chief information security officer to facilitate continuous monitoring of their systems for vulnerabilities and provide technical guidance to all 100 county boards of elections.
"Some counties are financially strapped. Our goal is to make sure all counties have the same resources," said Degraffenreid.
Advances have already been made to make it easier for people to register to vote in North Carolina. Through a partnership with the Division of Motor Vehicles (DMV) launched in 2016, people can register when they renew their driver's license or ask for a duplicate. Today, the vast majority of voter registration transactions come from the DMV, either in person or online.
Heading into the 2018 elections, Degraffenreid says North Carolina voters should have full confidence that we have a secure, fair and transparent election process. For more information on voting in North Carolina, visit www.ncsbe.gov.