Oct 24, 2018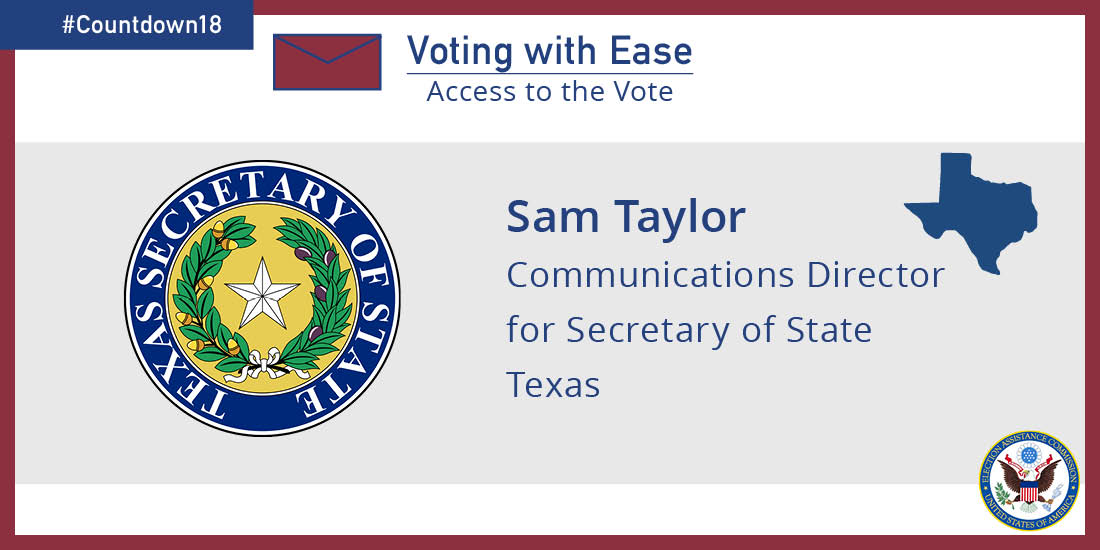 There are more than 1.3 million members of the uniformed services stationed away from home with 700,000 family members and 5.7 million U.S. citizens living overseas. Depending on their circumstances, they can experience significant challenges when attempting to cast a ballot. Access to regular postal service, computers, even pen and paper can be a challenge when you are on the front lines or living in a remote region of the world. 
Before we take a closer look at Texas, let's examine how the federal government has worked to improve services for military and overseas voters. In 1986, Congress passed the Uniformed and Overseas Citizens Absentee Voting Act (UOCAVA). UOCAVA allows those in the military or overseas to complete a Federal Post Card Application (FPCA) to apply to register to vote and request an absentee ballot. Voters are encouraged to fill out this form before each election, in case any changes in their status or residence has changed. The FPCA is submitted to the local election official. After verifying the eligibility of the applicant, the local election official sends the applicant an absentee ballot. The voter fills out the ballot and returns it to the local election official to be counted. If the applicant does not receive the ballot 30 days before the election, they may complete and submit the Federal Write-In Absentee Ballot (FWAB) to ensure their vote is received in time to be counted. 
Thanks to the Military and Overseas Voter Empowerment Act (MOVE), passed by Congress in 2009, FPCA voters can now track their ballot through the FPCA Ballot Tracker so they know whether election officials have received their ballot. Every ballot that arrives on time is counted. The law also requires the use of technology to transmit election materials to military and overseas voters, including the electronic delivery of blank ballots and electronic tracking systems; the use of online communication using websites and email correspondence; and blank ballot distribution to voters 45 days before Election Day.
Beyond Capitol Hill, the EAC and the Department of Defense's Federal Voting Assistance Program work diligently to ensure UOCAVA voters have access to guidance and services specifically designed to serve this population of voters. In addition, the EAC monitors UOCAVA data as part of its Election Administration and Voting Survey (EAVS).
According to 2016 EAVS data, 930,156 UOCAVA ballots were transmitted and 68.1 percent — 633,592 UOCAVA ballots — were returned. Six states — California, Florida, Texas, Washington, New York, and Colorado — accounted for nearly half of all UOCAVA ballots transmitted in the United States. Texas reported transmitting 65,193 UOCAVA ballots in 2016, 45,350 of which were returned.
"Texas has one of the largest military populations in the nation, so there is a great deal of focus by the Secretary of State and the state legislature to ensure military personnel, their families and other Texans living overseas have the same voting rights and access as those at home," says Sam Taylor, Communications Director for the Texas Secretary of State. "In recent years, the Texas legislature has enacted a number of laws to assist military and overseas voters in returning their marked ballots."
"In 2013, Texas began a pilot program in Bexar County that allows military voters in combat zones to return their marked ballot electronically via email," says Taylor. "This allows qualified military voters the opportunity to make their voices heard while they are defending our right to make our voices heard."
Thanks to this pilot program, a military voter in a combat zone is provided a one-time use secure email address where their ballot is sent. They then vote it and return it to the county. The county has a dedicated computer set up in the tabulation room to receive the ballots. Only elections officials who have signed sworn affidavits have access to the computer. "The program has been successful in allowing these voters to return their marked ballots safely and securely," says Taylor.  
Military voters in combat zones can also return a ballot by fax, with a signed FWAB cover sheet. The early voting clerk receives the ballot via fax and places it in a ballot envelope and seals it. The faxed ballots are delivered to the early voting ballot board along with other vote by mail ballots and are processed in the same manner as other ballots.These faxed ballots must be received by the close of the polls on Election Day in order to be counted.
Texas has extended the deadline for receipt of paper ballots from UOCAVA voters to the sixth day after the elections, so long as the ballot is postmarked or mailed by Election Day.
"Texas has put a significant focus on education for military communities, inviting experts from the Federal Voting Assistance Program to speak at events in some of our big military counties," says Taylor.
Thanks to aggressive efforts by Congress, the U.S. military, states like Texas and local communities, military voters and those living overseas are seeing advances in their ability to engage in the important democratic process of voting.
For more information on elections in Texas visit https://www.sos.state.tx.us/elections/index.shtml