Oct 16, 2018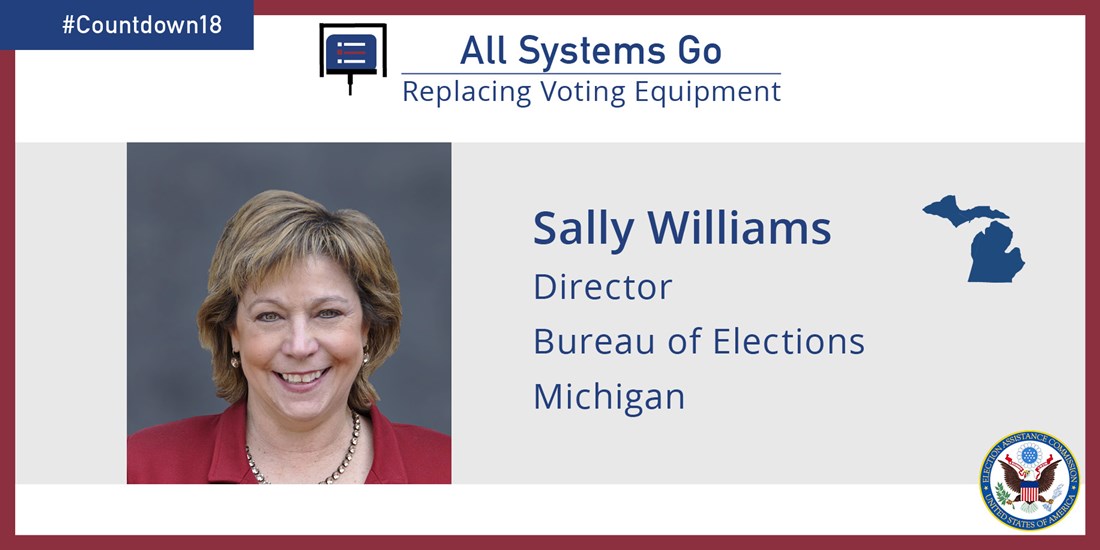 Michigan is one of the few states working with all new voting equipment for the November 2018 elections.
"We started replacing equipment in 2017. Some of the counties are on their third or fourth election with the new equipment. All others used them in the August primary this year – so no jurisdiction will be using new equipment for the first time in November," says Sally Williams, Director of the Bureau of Elections. The funding for the new equipment came from the original Help America Vote Act (HAVA) funds and $10 million of appropriated funds from the state legislature.
Michigan's election administration structure is one of the most decentralized in the country, with each of its 1,520 cities and townships independently running elections. But that does not mean the state and counties have no role in the elections.
In Michigan, the state established three state-level contracts with vendors for voting equipment. The state certified each of the approved vendors, who also had to meet federal certification requirements. This approach ensured consistency in system requirements and volume-pricing, while allowing the counties and locals to have the ultimate choice in what type of equipment they would be using. There is a law on the books in Michigan that gives county clerks the ability to choose a voting system for use throughout the county.
Beyond providing multiple choices, Williams says, "Michigan is a big state, population and size wise. We have more than seven million registered voters living in 83 counties, over 1,500 local jurisdictions and close to 5,000 precincts. That would be a lot for one vendor to handle. And by certifying three vendors, we had competition, which resulted in great pricing and savings for our locals."
According to Williams, Michigan's counties and local jurisdictions were very involved throughout the equipment procurement process.
"We started with a planning group. We provided an open invitation for local officials to get involved in helping to write specs on software, hardware and accessible machines for use by voters with disabilities. The group looked at various system options available and their work on the specifications was included in the eventual vendor contracts. We even had a vendor fair where locals could come and check out the equipment in person," says Williams.
The new machines are a digital optical scan base utilizing a paper ballot, and have many improvements over the last generation systems. Voters like how easy the machines are to use, and are happy with features, such as bigger screens and clear messages. While the overall experience is not much different for the average voter, many seem most pleased with a simple change where a message appears stating: "Your vote was counted."
"That basic message alone provides a high level of confidence in the process," says Williams.  And the election officials are pleased with the software changes and modernized reporting options available in the system software.
The new ADA compliant machines are much improved as well. The screens are larger. The voter can change the resolution or the size of the print or opt for spoken word instructions. They also have specialized adaptive devices and other features to address numerous types of disabilities. The machines print out a ballot which is then fed into the same tabulator all voters are using. Williams says the vendors have been very responsive. They continue to consult with the state and disability community to look for continued ways to improve these machines over time.
With all of this new equipment, training is critical. As part of the contract, vendors provide in-depth training to local election officials. The counties also provide multiple opportunities for hands on training sessions for local officials and poll workers on the operation of the system and the various steps necessary to ensure its security, including testing, transportation, storage and locks and seals. In addition, user groups have been established with each vendor so counties can collaborate with each other about best practices.
Williams says security is a high priority for the Bureau of Elections.
"We have many checks and balances in place to secure the integrity of our voting system," says Williams. "Many stories in the media seem geared towards creating distrust in election processes overall. It's rare to see any recognition of the procedures all states have in place to build multiple steps of verification, protection, checks and re-checks and integrity into every step of the entire election process, from beginning to end. Since the federal government's classification of election systems as 'Critical Infrastructure' in 2016, we've also seen a high level of coordination between the states and the federal government. The Department of Homeland Security is providing us with several useful tools, expertise and knowledgeable resources, and valuable communication channels to help all the states stay fully informed of any potential threats, and strategies for addressing them. Our systems have many layers of security that involve protections against cyber, physical and information security vulnerabilities. We are confident we have taken appropriate steps to ensure a safe and secure election, but we will always remain vigilant."
Williams hopes that voters take the time to learn more about the election process.
"There is no better way to learn about the process than to become a precinct worker or poll watcher. And by all means, ask questions and be informed. Don't let anything dissuade you from voting."
She is encouraged by what she is seeing this year. She says, "There is a huge interest in this year's election; turn out is way up (both voter registration and absentee voting), especially among our younger voters. That's all very encouraging. Get out and vote and use your voice!"
For more information on elections in Michigan, visit www.mi.gov/vote.