Oct 18, 2018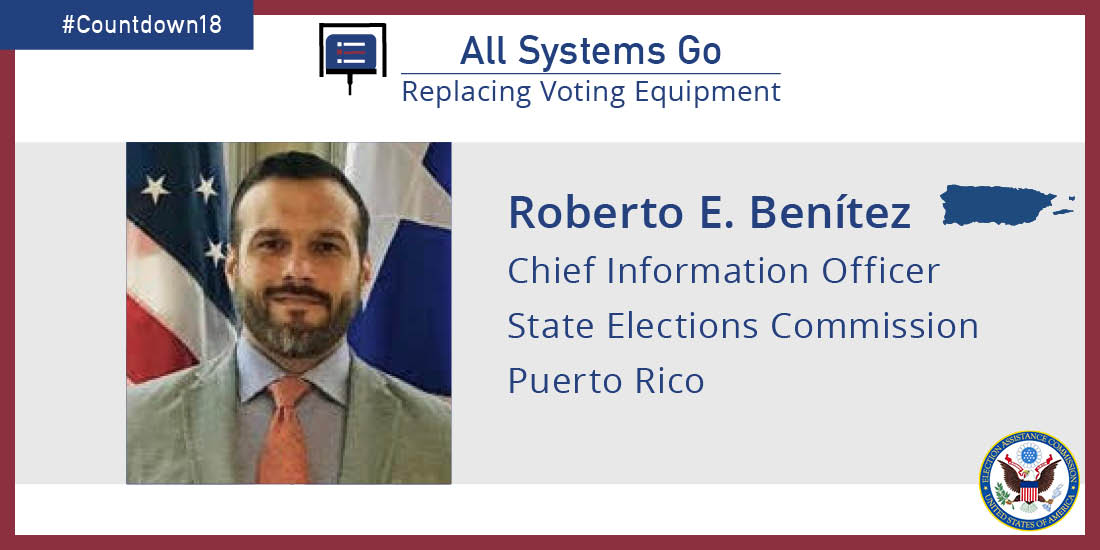 Hurricane Maria devastated Puerto Rico, leaving death and destruction in its wake that island residents are still facing today. But one bright spot in this devastation was the efforts of the staff at the Puerto Rico State Elections Commission.
"Our headquarters building sustained significant damage and several of our satellite offices were damaged as well. The entire IT infrastructure and electronic components of the Elections Commission were affected to various degrees," says Roberto E. Benítez, Chief Information Officer of Oficina de Sistemas de Información y Procesamiento Electrónico (OSIPE) for the Puerto Rico State Elections Commission.
Benítez knew he needed to get people back to work. With much of the headquarters damaged, he moved 10 floors of offices into one suitable floor with minimal impact from the hurricane. They shut off the breakers to all other floors and managed to focus power to the new operations floor, which allowed them electricity for about 10 hours a day. As a result, one week after the hurricane, the headquarters network was operational.
During the following week, they opened 15 satellite offices out of 88 around the island to offer some limited services. Since some had direct or alternate power, and most of the fiber optic data-lines were not affected, they decided to turn these satellite offices into "Oases" where citizens could receive food, aid and communications services. They opened public Wi-Fi communications at every available facility with connectivity to help people communicate with family and access assistance for state government services and electronically file FEMA claims.
"In the aftermath of Hurricane Maria, the Elections Commission facilities were able to bring some level of comfort, assurance and hope to communities around the island," said Benítez.  
The primary network infrastructure was also affected by the lack of cooling and power, but due to the Elections Commission's aggressive preparation efforts, they had enough redundancies and plans to ensure they could safeguard information and provide services as soon as feasible.
Equipment storage was another matter. The storage facility for voting machines went without power and air conditioning for over five months. High heat and humidity created prime mold and rust conditions and lack of clean, uninterrupted power affected their ability to perform proper maintenance on all machines. Once electric power was restored, they began a massive reconditioning campaign of the electronic tabulators. During their efforts, they found battery flaws doubled from normal operation wear. The increase was from an average of 5 percent under normal conditions, to 11 percent after Hurricane Maria. With 6,075 machines, that's  688 with battery issues at approximately $200 a battery. Their supplier was on the ground, helping them out, and is still working to ensure systems are operational by 2020.  
Benítez says they are grateful for the efficient response from the Elections Commission operations and technical teams with the voting equipment, which decreased the catastrophic impact of Hurricane Maria. These efforts freed necessary capital for improvements and hardening, rather than repair and reconstruction.
While OSIPE staff continue to conduct reparations from Hurricane Maria, they are also moving forward with the purchase of new electronic poll books, which will provide instant voter validation on Election Day. They are using HAVA funds to implement a comprehensive plan for IT infrastructure upgrades and integration of security capabilities. This plan focuses on voter registration integrity and availability, as well as elections IT infrastructure security and reliability.
"Our election infrastructure has needed some love and care for a long time. With HAVA funds, we are leapfrogging our technology by about 10 years and building the system the way it should be built," says Benítez.
Puerto Rico is requesting more Help America Vote Act (HAVA) funds that will be geared towards IT infrastructure upgrades, technical training, improving the voter registration process, elections efficiency and overall cybersecurity.
To protect the enterprise's three main operations: administrative services, voter registry and election operations, they have taken significant steps, including encryption of data in-transit and at-rest, hardware-based encrypted communications, server hardening and physical separation of IT services. Partnerships have been key to Puerto Rico's efforts, including inter-state collaboration through the Multi-State Information Sharing and Analysis Center (MS-ISAC) and the Elections Infrastructure-ISAC.
"Our nation is stronger together and Puerto Rico is an integral part of our collective strength," says Benítez.
Benítez says, "We have enhanced our understanding of the current cybersecurity environment threat tenfold and our ability to mitigate it. Once we complete our full plan, we have no doubt, Puerto Rico's electronic election infrastructure and cybersecurity capabilities will be a benchmark in our nation's elections infrastructure."
As they bring their services and capabilities back to 100%, their plan is to provide new training for every Elections Commission employee before the 2020 elections. This training will focus on the efficient use of new highly-technical platforms and will enhance cybersecurity awareness and adequate threat understanding to address future risks and vulnerabilities.
Unlike most of the United States, Puerto Rico does not have mid-term elections in 2018, which gives them additional time to prepare. The staff of Puerto Rico State Elections Commission's OSIPE has the ultimate responsibility to ensure the availability, confidentiality and integrity of the IT infrastructure that supports the electoral process.
"We take this responsibility seriously and passionately. It is our goal to establish an agile, secure and resilient elections infrastructure that will ensure every U.S. citizen in Puerto Rico can exercise their right to vote confidentially and securely, guaranteeing that their vote will be correctly counted and protected."
To learn more about elections in Puerto Rico visit: http://ceepur.org/.