Oct 17, 2018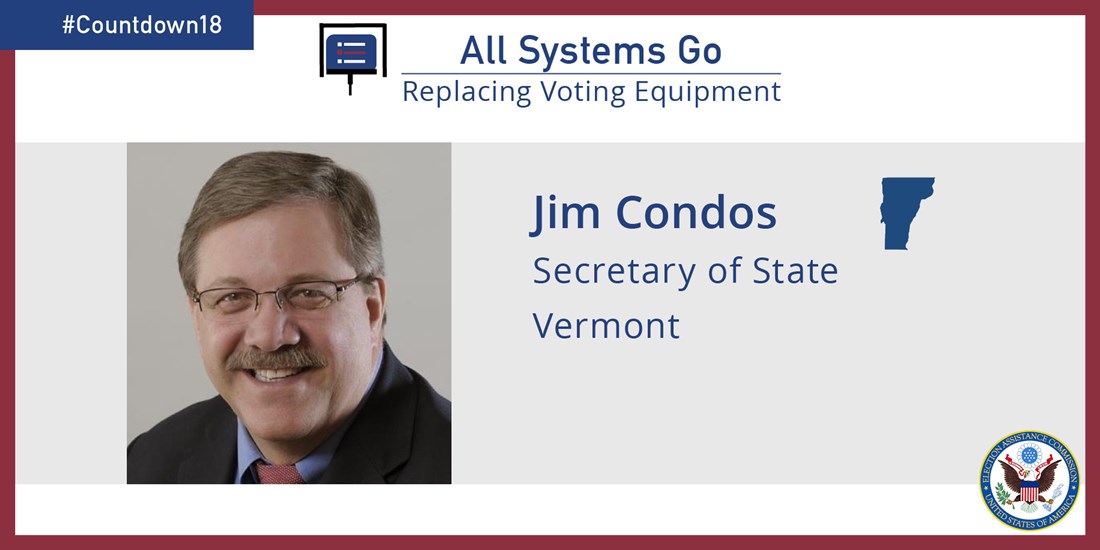 Vermont has always used voter-marked paper ballots. So when the state started to explore replacing voting equipment, there was no question the new system would continue to be paper-based, according to Secretary of State Jim Condos. In August 2018, in advance of the primary elections, Vermont acquired a new state-of-the-art accessible voting system for every polling place in the state. The equipment allows voters with disabilities to vote privately and independently, a requirement of the Help America Vote Act (HAVA).
Vermont's new system is a tablet-based ballot marking device that uses an off-the-shelf printer to print the voters' choices, which are made on the tablet, directly onto the appropriate ovals on the same ballot other voters are using. The system is designed to serve people with a broad range of disabilities. The tablet is equipped with headphones for those with visual impairments or who are blind. It also has a joystick and paddle option for those with any physical disabilities that would hinder using the touchscreen. There is an online component that will allow voters with disabilities to mark their ballot without assistance using the accessible interface from home during the 45-day early voting period and return it to the clerk by mail. The launch of these machines in the primaries this year was a success. Clerks and users considered it a great step forward for voter accessibility.
The next step is to begin replacing vote tabulators following the 2018 elections. Condos says, "Our current goal is to have them in place for the 2020 elections, but no later than the 2022 elections." The state will purchase the machines from a single vendor for all 246 towns and cities, so there is a uniform system throughout the state. Condos believes this uniformity will make administration easier.
"While we cannot say with any certainty which machines we will pick," says Condos, "I can guarantee that the new machines will use a paper ballot marked by the voter which is then tabulated."  
For November, Vermont voters will continue to use the paper ballots with optical scanners currently in place. These machines are 10-15 years old, receive annual maintenance, paid for by the state, and are still safe and reliable.
"It's a reality for every state that our infrastructure is aging and needs to be replaced," says Condos. "The HAVA funding is extremely helpful, but I believe that states need an ongoing reliable funding source to update our systems and address cybersecurity issues sustainably over time. Deferred maintenance always costs more in the long run."
In 2016, Vermont's system of election administration was rated #1 overall nationwide by MIT's Election Performance Index. Condos says, "What this ranking means is that across numerous measures we have increased accessibility, and decreased roadblocks for Vermont voters, while ensuring that our elections process is functioning effectively as the bedrock of our democracy."
Vermont also has robust cybersecurity protections in place to protect against cyber-attacks. The state started focusing on cybersecurity in 2013.
"We were ahead of the game," says Condos.  "Our cyber enemies are sophisticated and evolving and we must be too. We were in good shape in 2016 and we are in even better shape in 2018."
The optical scan tabulators are not connected to each other or the internet. A post-election audit is conducted after every general election to confirm the accuracy of results. Paper ballots are sealed and retained for 22 months after an election. The state uses ALBERT sensors to monitor for any threats, firewalls and two factor authentication on all systems. Weekly cyber hygiene scans are conducted by the Department of Homeland Security (DHS) as well as ongoing penetration tests on all systems. Thanks to a partnership with DHS, Vermont has an Election Day threat dashboard, and open channels of communication in both directions to communicate any threat activity.
Vermont also backs up their voter registration database every 24 hours. Even in a worst case scenario where the voter registration database is compromised, a 24-hour restore could be performed, only losing a day's work of data. "Plus, we have same day voter registration so any registered voter caught in that 24-hour window can still show up at the polls on Election Day, register, and vote. No eligible voter will be denied their right to cast a ballot," says Condos.  
Condos feels very confident in the security of the election process in Vermont. He says, "If there's one takeaway I want to convey to Vermont voters, it's that when they vote early or cast their ballot on Election Day, they can do so with confidence that we have taken the necessary steps to protect the security and integrity of their vote. Security and integrity of our elections are top priorities for me. We have worked hard to ensure both in Vermont. Your vote is your voice – see you at the polls!"
For all the information you need to vote in Vermont, visit https://www.sec.state.vt.us/elections.