Mar 28, 2017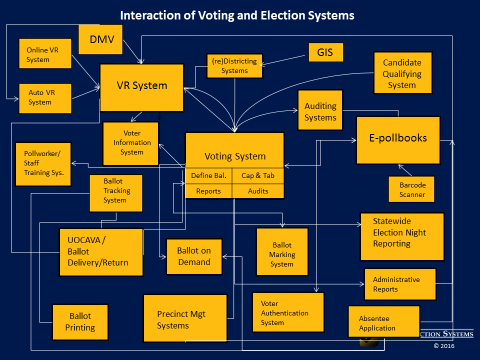 As one part of our #GamePlan17 efforts, the EAC continues to focus on voter registration list maintenance. For state and local election officials, list maintenance is not a once a year spring cleaning exercise but instead a constant process akin to doing laundry.  Once you finish your "last load" the hamper is full again and it's time to start over.  One of the common themes that emerges from election officials as they discuss list maintenance is the need for a constant and consistent flow of data from a variety of sources in order to maintain the lists.  The sources include DMV, SSA, USPS, online voter registration systems, statewide voter registration databases, voting systems, ERIC, cross-check and, sometimes, commercial entities.  This is an enormous universe of data coming from a disparate set of sources. 
With these vast and varying sets of data in mind, one of the projects the EAC is working on with the National Institute of Standards and Technology and election officials around the country is the development of a common data format for election systems.  The purpose of this common data format is to allow the systems that operate within the elections ecosystem to speak the same language and therefore more efficiently and accurately exchange data.  This effort began with the work of the IEEE p1622 working group several years ago and a dedicated group of election officials, technologists, private industry and government representatives have been grinding away on this work ever since.  In 2015 the EAC and NIST took over this effort as part of the development of the next version of the Voluntary Voting System Guidelines.  The idea being that if a common data format could be established within the election community the testing and certification of voting systems could be done faster and better.
Since that time lots of work was done.  Data formats for election results reporting and voter records interchange are used by election officials both within their homegrown systems and as part of RFP's for various election systems.  Data formats for system event logging, voter records interchange, voting method modeling and cast vote records are in development. 
Also private industry leaders such as Google, voting system manufacturers, voter registration database providers, the Voting Information Project (VIP) and ERIC are using available formats and working on new formats in order to ensure the efficient, consistent and secure exchange of data within and between various election systems. This should lead to an increase in the number of components and systems available in the election space allowing for greater innovation and cost savings.  It should also lead to more complete reporting for election officials as they look to use data to improve their operations.
Lots of work remains. If you are interested in getting involved sign up here with a related working group.  As I have said many times, there is no more important work being done in election technology.  The EAC will continue to work with NIST, election officials and all relevant stakeholders to push this effort forward.