May 25, 2017
As our nation recognizes May as Military Appreciation Month, we caught up with Deborah Clark, Supervisor of Elections for Pinellas County Florida, to talk about their "Vote in Honor of a Vet" program. Located on Florida's west coast, Pinellas County is a 280-square mile peninsula bordered by the Gulf of Mexico and Tampa Bay. The County has nearly 645,000 registered voters.
The Pinellas' elections office "Vote in Honor of a Vet" program aims to encourage voter participation among senior high school voting-age students, as well as teach them about the sacrifices our veterans have made. The program offers a unique way of involving veterans of all ages in the effort to empower youth civics participation.  
It is fantastic to see Pinellas County and other localities across the U.S. honoring veterans in the voting process. Below are Deborah Clark's answers to our questions about their patriotic program. 
EAC: Please tell us more about your "Vote in Honor of a Veteran" initiative and some of the program's goals?
Deborah Clark: We often take for granted the many freedoms we enjoy as Americans. The sacrifices our veterans have made on behalf of this great nation stand as examples that underscore the need for us to take our responsibilities and freedoms seriously, especially our right to vote.
The Pinellas County Supervisor of Elections office developed our Vote in Honor of a Vet program in 2003, which is presented annually in our high schools. The goal of this program is to encourage voter participation among our senior high school voting-age population, and personalize the voting experience by teaching students about the sacrifices our veterans have made to preserve our right to vote.
As part of the program, veterans or their family members complete and submit a short biography. When we present the Vote in Honor of a Vet program at a high school, each student is handed a certificate with a veteran's biography. Students are then given the opportunity to register to vote, and are encouraged to Vote in Honor of Their Vet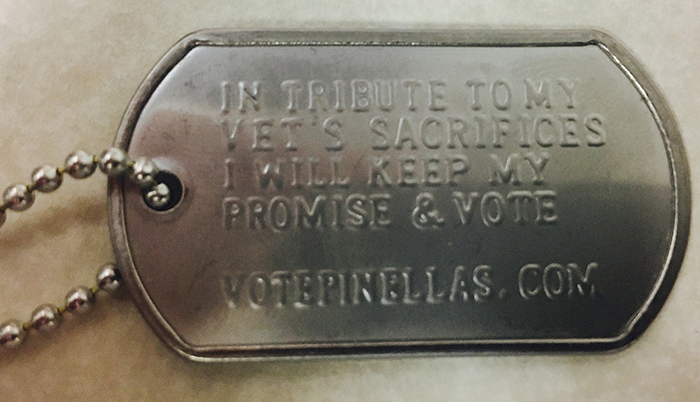 We also give dog tags to the students to remind them of their pledge. The tags read: In Tribute to My Vet's Sacrifices, I Will Keep My Promise & Vote.
The program is accompanied by a 5-minute video which provides the students a visual display of the sacrifices made by our service members and veterans in the name of life, liberty and the pursuit of happiness.
EAC: We learned of your program on Twitter. What types of additional outreach do you use to promote this initiative with first-time voters and veterans?
Deborah Clark: We have a display in the lobby of our main office with photos of some of the veterans in the program. We also have information about Vote in Honor of a Vet at all our voter outreach and education events throughout the county. Additionally, we attend veterans' events in order to promote the program and encourage participation. 
We have a dedicated page on our website – www.VotePinellas.com/Veterans – which includes information about the program, an online biography form as well as a gallery of some of our veterans with additional bio information.  
During Military Appreciation Month in May and also in November (Veterans Day) each year we find a way to recognize our veterans and the Vote in Honor of a Vet program through social media (Facebook: @PinellasCountySOE; Twitter: @VotePinellas; Instagram: @VotePinellas), our website (VotePinellas.com), our newsletter and various local publications.
EAC: Could you talk about a specific story from your outreach events that highlight the patriotic efforts of "Vote in Honor of a Vet?"
Deborah Clark: We had the opportunity to throw out the ceremonial first pitch at a Tampa Bay Rays baseball game in August 2016. In recognition of Purple Heart Day, veteran Larry Phelan threw out the ceremonial first pitch on behalf of the Pinellas County Supervisor of Elections' Vote in Honor of a Vet program.
A World War II Army Veteran, Captain Larry Phelan is a recipient of the Silver Star, two Bronze Stars and three Purple Hearts while serving his country in The Big Red One, invasions of North Africa, Sicily, Omaha Beach on D-Day, and the Battle of the Bulge. For 20 years, Captain Phelan has also been a dedicated volunteer assisting fellow veterans who receive care at the Bay Pines VA Healthcare Facility. 
It was a very special moment for a very special hero (Video).
EAC: What should election officials know about starting their own program and what challenges have you encountered along the way?
Deborah Clark: One of the best parts about being an election administrator is everyone's willingness to share success stories and find ways to implement those successes into county-specific programs. We have made great use of others' wonderful ideas and vice versa. We all want what's best for our voters and we are always looking to see how we can share best practices.
This particular idea came from another Supervisor of Elections and similar programs operate in several jurisdictions round the country. We were able to hit the ground running with what a fellow election administrator had created and mold it to fit within our voter outreach efforts.
EAC: What types of positive feedback have you received from veterans, schools, and students?
Deborah Clark: Having the veterans speak directly to the students through their biography and give another reason why it is important to vote is a powerful tool. It offers the veterans an opportunity to share their personal experiences and beliefs and leave another legacy to the next generation.
The students are engaged in the presentation's discussion and accompanying visual aspects. Students take with them important information about registering to vote and participating in the voting process as well as our veterans' sacrifices. The teachers and school administrators also love the fact that there is an educational value to the program beyond registering to vote.
EAC: Are you able to track the program's success? For example, the number of Vote in Honor of a Vet high school outreach presentations, newly registered voters, and youth voting statistics in Pinellas County?
Deborah Clark: Since its inception, we have made more than 160 Vote in Honor of a Vet presentations and registered more than 21,000 high school students through the program. In 2005, we received the Superior Award from the National Association of County Information Officers (NACIO).
Over the last four Presidential Elections, turnout of voters aged 18-30 in Pinellas County is about 10 percentage points higher than the national average turnout for that age group.
EAC: As election officials work to engage both youth and veterans across America, what is one tip or best practice you would share in reaching these important constituencies?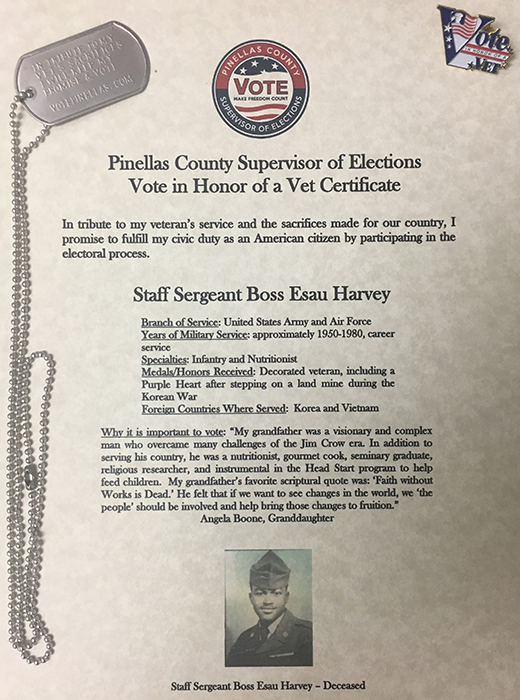 Deborah Clark: Remaining an active member of our community is a key component to our voter outreach program. We are fortunate to live in a county with many community activities year round. Each of these events offers an opportunity to speak with voters face-to-face. We can directly give them the information, education and resources they need without relying on a third party or any misinformation. The direct communication with our voters and the availability of our office to be immediately responsive to our voters is invaluable.
I'd like to offer a big thank you to Deborah Clark and the Pinellas County Elections Office for sharing this great information about "Vote in Honor of a Vet." As Memorial Day approaches and we continue to honor our nation's veterans, the EAC team extends our deepest gratitude to our veterans for their sacrifice and service!