EAC Standards / EAC TGDC Board Member / Supervisor of Elections, Okaloosa County (FL)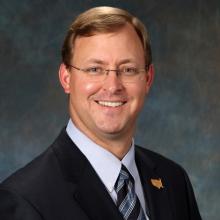 Paul
Lux
Paul Lux is an EAC Standards Board Member and an EAC TGDC Board Member.
Paul Lux moved to Okaloosa County with the military in 1997. He came to the elections office in 1999, serving in various capacities until he was elected Supervisor of Elections in 2008.  He currently serves as Vice President for the Florida State Association of Supervisors of Elections.
Paul has kept Okaloosa County on the leading edge of the elections community, participating in voting equipment beta testing and certification testing, voting equipment upgrades, and election audits and recounts in other counties.  He has worked with the Federal Voting Assistance Program (FVAP), the US Election Assistance Commission (EAC), the National Institute of Standards and Technology (NIST), and the Florida Secretary of State and Division of Elections to improve voting processes and technological alternatives for military and overseas voters.
Paul has been deeply involved in research to improve voting for absente military and overseas voters.  He has participated in: the Voting Over the Internet (VOI) Project (2000), the Secure Electronic Voting and Registration Experiment (SERVE)(2004), the Okaloosa Distance Balloting Pilot (ODBP) Project (2008), and an electronic ballot delivery project (2010).  Paul currently heads a consortium of 34 Florida Counties known collectively as Our Mission: Your Vote, a new blank ballot delivery project being conducting under the EASE-I and EASE-II grants from FVAP.