EAC Standards Board Member / Deputy Secretary of State, Maine Secretary of State's Bureau of Corporations, Elections and Commissions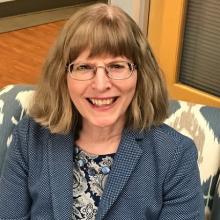 Julie L.
Flynn
Julie Flynn is an EAC Standards Board Member.
Julie Flynn began her service as a Maine election official in 1988; serving as an Assistant City Clerk for the City of Portland, where she was responsible for administering the voter registration and election programs.  Since 1995, Julie has led the Secretary of State's Bureau of Corporations, Elections and Commissions; first, as the Director of the Division of Corporations and Elections; and since 1999, as the Deputy Secretary of State for the Bureau. 
As the State's Deputy Election Administrator, Julie has been a leading advocate for training of municipal election officials, and has developed an official training manual which is the cornerstone of Maine's mandatory training program.  Each year, Julie and the elections staff update election materials, conduct a two-day conference for local election officials, training over 250 attendees each day, conduct regional workshops and training sessions and speak at various county association meetings.
In addition to overseeing the design, preparation and distribution of uniform ballots for statewide elections, and the certification of candidate and statewide initiative petitions, Julie also has the distinction of serving as Maine's Recount Supervisor for all state and county election recounts which are conducted centrally under the authority of the Secretary of State.  In 2010, Julie drafted legislation (which was enacted by the Legislature) to centralize the process of voter registration and absentee ballot issuance and processing for UOCAVA voters with the Elections Division rather than with the over 500 municipal jurisdictions.  In 2012 and 2013, Julie supervised the implementation of a new digital scan vote tabulator; which now is deployed it to about 265 municipalities.  In 2016, Julie led the process of procuring and deploying a new Accessible Voting System in all 500 municipalities.  Through her leadership, the Division of Elections strives to make continuous improvements in election processes and technology and to create an environment of inclusiveness for all voters. 
Julie holds a BA in Psychology and a Master of Business Administration, both from the University of Maine at Orono.  Julie is a Maine native who lives in Windham, Maine with her husband Bob.  They have three grown children and five grandchildren.