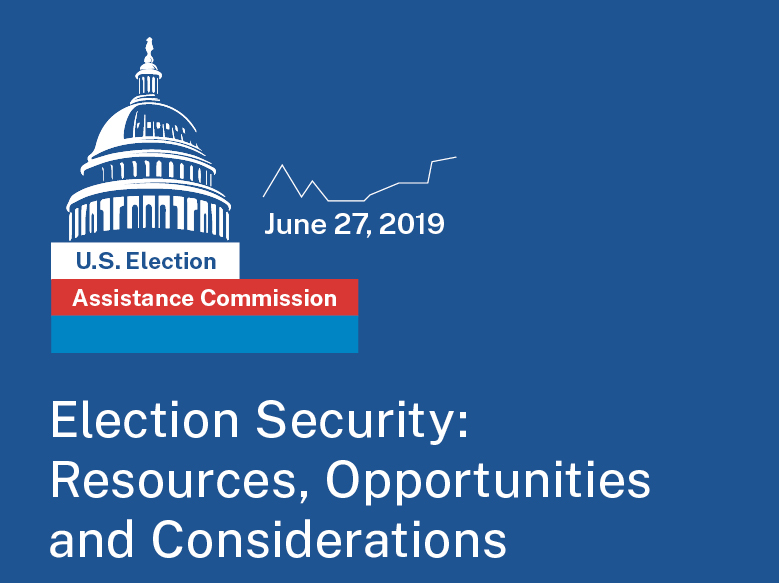 Jun 25, 2019
Election security has been top of mind for election officials since the 2016 elections, and efforts are well underway to strengthen election infrastructure for the 2020 elections and beyond. Leveraging governmental and non-governmental partnerships, including with new actors to the elections space like the Department of Homeland Security and state National Guard units, state and local election officials are working tirelessly to harden their systems and adopt cybersecurity best practices.
We at the U.S. Election Assistance Commission (EAC) are supporting these efforts by distributing recently appropriated Help America Vote Act funds, developing the next generation of federal guidelines for voting system testing and certification, providing trainings and sharing best practices on election security issues, contributing to the Election Infrastructure Subsector Government Coordinating Council (GCC), and conducting research on relevant topics. Indeed, data collected through the EAC's 2018 Election Administration and Voting Survey (EAVS) can help election officials, policymakers, and other stakeholders better understand the nation's election infrastructure, including on topics such as voting equipment, electronic pollbooks, voting failsafe mechanisms, and post-election auditing.
These topics and more will be discussed during the third panel at the EAC's 2019 Election Data Summit on Thursday, June 27 in Washington, DC. I am pleased to announce the panelists for this session:
Keith Ingram, Director of Elections, Texas; President, National Association of State Election Directors Board; Executive Committee Member, Election Infrastructure GCC
Jerome Lovato, Director of Testing and Certification, EAC
Jennifer Morrell, Consultant, Democracy Fund
Philip Reitinger, President and CEO, Global Cyber Alliance
Colonel Teri Williams, Deputy Commander, 91st Cyber Brigade, Virginia National Guard
The 2019 Election Data Summit is free and open to the public and media. We hope you will join us for this important discussion. Attendees are strongly encouraged to register in advance, as space is limited. Additional information on summit panels will be released in the coming days on this blog.